Even though Batam Island is relatively small, but nightlife in Batam is as vibrant as many other big cities in Southeast Asia. Since this town is a business and trade centre, also a gateway to Singapore, there is a large traffic of visitors and business people in Batam. Nightlife hotspots and venues are easily found to fit the needs of expatriates, such as pubs, night clubs, cafes, spas and massage centres. 
The main nightlife area in Batam is concentrated in Nagoya. This area attracts large number of tourists from around the world every year to enjoy the craziest Batam nightlife to its fullest. Due to this reason, Nagoya also attracts a decent number of Indonesian girls working in massage parlors, karaoke, or freelancing in certain bars & dance clubs.
14 Best Nightlife In Batam
SKY 8 Rooftop Bar at Sahid Batam Center Hotel with alfresco seating offers the best night view of Batam city. This rooftop is surrounded by glass walls and a live music stage is set just in front of it, fitted with an elegant and fairly large bar counter. The breezy place serves all kinds food, drinks, cocktails, wines and beers. – Best nightlife in Batam for couples.
Address: Jl. Raja H. Fisabillilah Komplek Rafles City Batam Centre, Indonesia
Operation hour: 4 pm to 12 am. 
Thrive KTV is an interesting venue that offers futsal, karaoke & billiards all-in-one building itself. There are 15 billiards, 2 futsal courts and 9 VIP KTV rooms. Basically, this is a men's heaven as they are many beautiful girls that will accompany you all night long. One of the best nightlife in Batam to hangout for a group of friends.
Address: Jalan Yos Sudarso, Kampung Pelita, Lubuk Baja, Kota Batam, Indonesia
Operation hour: 1 pm to 3 am. 
Grand Dragon, a well decorated venue with great live band in the main hall & big KTV rooms that provide great sound system and wide range of songs from many languages. A great place to spend your night and grab the opportunity to hunt for the beautiful freelancers in the dancing hall. – Best nightlife in Batam for bachelor.
Address: Batam City Hotel, Selicin, Kec. Lubuk Baja, Kota Batam, Indonesia
Operation hour: 2 pm to 5 am. 
Square Club & KTV, at the 2nd floor of I Hotel Baloi is an upscale perfect combination of KTV & nightclub in Batam. It is beautifully built with great sound and lighting system, which closely resembles those in Jakarta. Besides the resident PRs, there are also bunch of local girls joining the party every night. – Best nightlife in Batam for party lovers.
Address: I Hotel Baloi 2nd Floor Komplek. Kec. Lubuk Baja, Kota Batam, Indonesia
Operation hour: 2 pm to 5 am. 
05 Inul Vizta Nagoya Hill
If you plan to travel in a big group or with family, Inul Vizta might be the best choice for you. This is a family friendly KTV with many  rooms of different sizes and themes. The largest room could easily cater for about 40 people. All rooms equipped with widescreen LED TV & touchscreen interface. – Best nightlife in Batam for friends & family.
Address: Komplek Nagoya Hill Superblok Blok R3H No. 12A-16B, Indonesia
Operation hour: 11 am to 3 am. 
06 Morena Massage Pub & KTV
Morena Massage Pub & KTV is located next to the famous Windsor food court. The venue offers KTV rooms, sexy dance show, pools & massage parlor beside the Pub. Morena is well-known as a place look for 'companionship' if you are alone. This is strictly an adult venue. – Best nightlife in Batam for men. 
Address: Komplek Windsor Square Blok D No.63- 65, Kota Batam, Indonesia
Operation hour: 12 am–3 pm   8 pm–12 am
07 Dynasty Karaoke & Lounge
Dynasty Karaoke & Lounge is one of the best entertainment outlets in Batam which has great set-up & vibe. This medium size lounge has a decent hall with live band, DJ & sexy dancers that definitely could entertain every visitors to the maximum level of fun. They also offers various sizes of KTV rooms if you need more privacy.
Address: Komplek Nagoya Center Blok A No. 5-8 Kampung Bule Nagoya Batam.
Operation hour: 11 am–4 am   
Foreplay Club Batam is a well-known nightclub among the expats & tourists. This is one of the upscale lounge with great live music, DJs, model shows & a dance floor right in the middle. The club is lively during weekend Friday & Saturday especially after 11 pm when the live band & Djs playing vibrant techno music. Weekday will be rather quiet.
Address: Jl. Imam Bonjol No.88, Sungai Jodoh, Kec. Batu Ampar, Kota Batam, Indonesia.
Operation hour: 7 pm–4 am   
09 The Last Pub & Restaurant
The Last Pub & Restaurant is a laid-back pub that serves both lunch & dinner in various choice of cuisine like Western food, Asean & local cuisine. This well decorated 2 storey pub has a pool table & great DJ playing nice music. It is one of the oldest & most popular venues among the expats & local office ladies. 
Address: Komplek New Holiday Blok B1-2, Sungai Jodoh, Kota Batam, Indonesia.
Operation hour: 11 am–2 am   
Even though NoName has just a small dance floor, but it provides great atmosphere for party lovers among the locals, tourists & expats. NoName is located at the basement of Harmoni Hotel, which is one of the most recommended places to stay in the city, as all the main hostess bars are within walking distance. – Best nightlife in Batam for live music.
Address: Jl. Raja Ali H., Sungai Jodoh, Indonesia. 
Operation hour: 9 pm–4 am   
11 F1 Club & Planet Discotheque @ Planet Holiday Hotel & Residence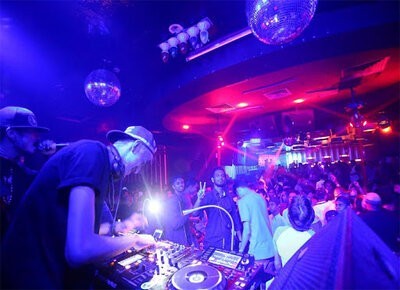 Both F1 Club & Planet Discotheque are situated in the same location of Planet Holiday Hotel. These 2 venues are among the most popular nightclubs for Singaporean especially during weekend. Most people could spend almost the whole night in this all-in-one entertainment venue where they offer techno disco, KTV rooms, billiards etc.
Address: Jl. Raja Ali H., Sei Jodoh, Kec. Batu Ampar, Kota Batam, Indonesia. 
Operation hour: 9 pm–4 am   
Blue Fire Bar & Resto is located in the Harbour Bay. Two different concepts, Bar and Resto, which are divided under one roof, are presented in the newly open spot. The bar itself is situated in a closed space, while the restaurant is built with contemporary decorations facing the sea. This is a new alternative now, to enjoy the lovely sunset.
Address: The Promenade Blok 8D Harbour Bay Downtown, Kota Batam, Indonesia. 
Operation hour: 3 pm–3 am   
Nomad Bar & Resto, is another newly open bar & restaurant just next to Blue Fire Bar above. This seafront bar has great DJ & awesome live band mostly playing English & Indonesian songs. They serve great food & all types of alcoholic drinks. During evening, this is one of the best spots to catch the beautiful sunset view.
Address: The Promenade Blok 8F – Harbour Bay Downtown, Kota Batam, Indonesia. 
Operation hour: 5 pm–1 am   
An awesome place in Nongsa (Montigo Resort) for absolute stunning view of sunset. In the comfort of shaded indoor loungers or in the sand area, TIIGO Beach Club is the ideal place to unwind. At nightfall, the resident DJ takes to the decks, transforming the space into an electric, groovy dance floor. – Best nightlife in Batam for Instagram session.
Address: Jl. Hang Lekiu, Sambau, Kecamatan Nongsa, Kota Batam,  Indonesia. 
Operation hour: 11 am–11 pm   
Best Nightlife In Indonesia
Best Nightlife In Thailand