BEST TIME TO VISIT MALACCA
Malacca (Melaka) Climate & Weather
The climate in Malacca is hot and humid all year, with plenty of rain. It has two rainy seasons in general, the first from end March to May and the second from October to middle of December (rainiest during November). As a result, the best time to visit Malacca is during the dry season, which lasts from mid-December to mid-March and June to mid-September. The average temperature during the day is between 30 °C and 34 °C, and between 24 °C and 28 °C at night. Temperatures rarely fall below 23 °C unless there is a heavy downpour.
In comparison to the rest of Malaysia's cities, Malacca is considered one of the driest, receiving less than 2,000 mm (79 in) of rainfall annually, whereas most areas in Peninsular Malaysia receive an average of around 2,500 mm (98 in).
Best Time To Visit Malacca By Month
Mid-December to mid-March (Dry Months) - Best Time To Visit Malacca For Bustling Festive Atmosphere
Even though there is still a lot of rain during middle December and the end of March, these are considered the dryer months in Malacca. The average monthly rainfall is around 100mm, and the weather is generally hot, with temperatures ranging from 25°C to 32°C. If you plan to visit Malacca during this time, bring some t-shirts, shorts, or light clothing.
Starting at the end of December, especially before Christmas and New Year's celebrations, this is usually considered Malacca's peak season. In December, the majority of western tourists visit Malacca to experience the unique Christmas and New Year atmosphere in the Portuguese Settlement. Furthermore, the Chinese New Year, which takes place in late January or early February, adds to the atmosphere by attracting a large number of locals and Asian tourists.
As a result, hotel and flight prices will be highest during this time period, though you can save if you book well in advance. Tourists are less likely to visit after the busiest festive seasons, so end of February to March could be the best time to visit Malacca for the best hotel and flight deals.
April to August (Wet Months)
These are the wet months in Malacca, with an average monthly rainfall of around 150mm. The rainiest months are April and May, with a slight decrease in rainfall from June to August. The weather, however, remains hot, with temperatures ranging from 24°C to 32°C. 
In terms of weather, these months could be one of the best times to visit Malacca, particularly around June and August, when there is less rainfall. Surprisingly, this is one of Malacca's low seasons, with less tourists. During these months, visitors can expect slightly lower rates on most Malacca accommodations.
September to Mid-December (Rainy Season) - Best Time To Visit Malacca On A Budget
Malacca's rainy season begins in September and lasts until the middle of December, with an average monthly rainfall of around 180mm. According to previous records, the wettest month is typically November, with rainfall totaling more than 200mm. The weather is still warm, with temperatures ranging from 24°C to 31°C. Without a doubt, this is the off-peak season, when most outdoor activities are limited to visitors. 
Due to the obvious bad weather, tourism is relatively slow during these months; nonetheless, it may be one of the best times to visit Malacca for those on a budget, since tourists can often take advantage of the cheapest accommodation offers.
Malacca, or Melaka in Bahasa Malaysia, is a well-known historical state on Peninsular Malaysia's west coast. Malacca City, its capital, has been designated a UNESCO World Heritage Site since July 7, 2008. It is also the oldest Malaysian city on the Malacca Strait, having flourished as a successful entrepôt during the Malacca Sultanate's reign. The city boasts numerous magnificent attractions, all of which clearly show the city's massive empire.
Following the emergence of the Malacca Sultanate, the city attracted traders from the Middle East, South Asia, and East Asia, as well as Portuguese traders seeking to control the Asian trade route. When the Portuguese defeated the local monarchy in 1511, the era of the Malay Sultanates came to an end. Malacca is now one of Malaysia's most popular tourist destinations, owing to the city's preservation of most historical structures dating back to the colonial era.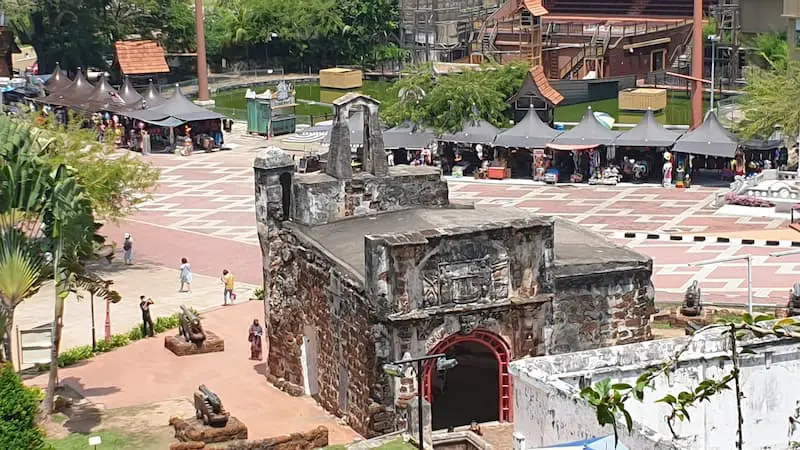 Despite the fact that Malacca has an international airport (IATA: MKZ), it has not served any flights within Malaysia's major cities in recent years, including Penang, Langkawi, Kuching & Kota Kinabalu. It only operates a few flights from Pekanbaru (Indonesia). Because it is close to KLIA (about 130 km), the most convenient way to get to Malacca is by car. 
Alternatively, if Singapore is your first stop in Southeast Asia, the only way to get to Malacca is also by car, which takes about 3 hours (260 km).