BEST PLACES TO STAY IN BALI
Bali has the best range of hotels in Indonesia right from the backpacker inns to the luxurious 5-star hotels. Most of the best places to stay in Bali can be found in Central and Southern region. Selecting the best places to stay in Bali for first-time tourists may be very challenging and confusing as each region provides a completely different experience than others. Backpackers prefer to go to Kuta, which has the cheapest lodgings on the island, and Nusa Dua, Seminyak and Ubud are clustered in most of the 5-star resorts.
Many hotels, bungalows and villas offer open-air bathrooms, mostly set in a lush garden, because of Bali's balmy weather. They look wonderful and are certainly a really Balinese experience. Prices for hotels in Bali may be provided in three different currencies. Prices are most prevalent in U.S. dollars, particularly outside of the budget market. Euros, particularly in hotels owned by European nationals, are often used. Lower-end locations are typically priced in Indonesian Rupiah (but not always).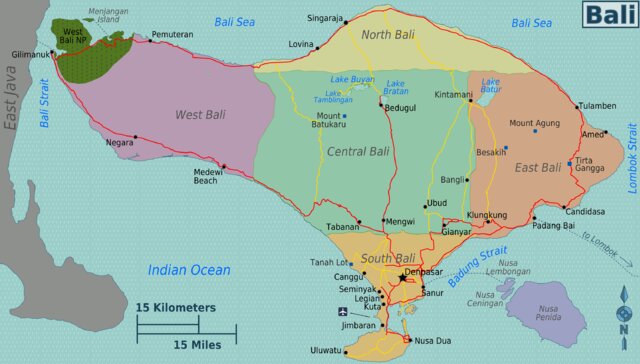 12 Best Places To Stay in Bali
South Bali is Bali's most established & popular area with visitors by far. The airport is here along with the greater region of Kuta, which now spreads for several kilometers to include Legian and Seminyak. Including Jimbaran, Uluwatu and Nusa Dua, the area south of the airport is quieter and mostly upscale. The areas up the coast to Canggu north of Seminyak and on to Tanah Lot are more rural but are also being established quickly. On the opposite coast, Sanur is a mature tourist town that mainly appeals to older families.
01 Uluwatu – Best Place To Stay In South Bali for Surfers
Uluwatu is situated on the south-western tip of the Bukit Peninsula, just about 22 km south of Ngurah Rai International Airport. It is home to the Pura Luhur Uluwatu Temple. This is the newest region that provides a wide variety of accommodation that now ranges from surfer bungalows to the opulent Bulgari Hotel.
More recently, an impressive array of high-end villas and resorts has also sprouted in the area. The whole area was popularized by surfers as Uluwatu was "discovered" as a surfing destination in 1972, due to the making of "Morning of the Earth", a 1971 classic surf film by Alby Falzon and David Elfick.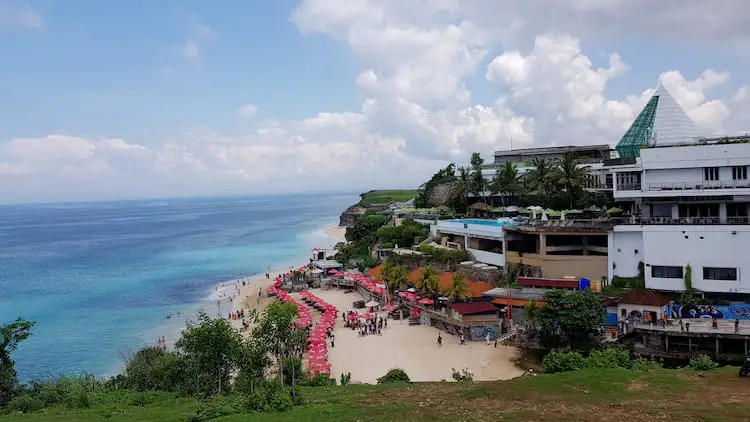 Where To Stay in Uluwatu, Bali
Mid-Range Hotels in Uluwatu, Bali
Budget Hotels in Uluwatu, Bali
02

Nusa Dua – Best Place To Stay In South Bali for Water Sports
Nusa Dua, situated on the south-eastern tip of the island of Bali which is approximately 15 kilometers from airport. It is recognized as an enclave of large five-star hotels & resorts as well as a home to the most popular golf courses in Bali and the main convention centre on the island.
There are glorious beaches here – white sandy beaches, deep, long and safe for swimming. Nusa Dua is the best location with plenty of all-inclusive resorts for a family getaway. It's also one of the best areas for water sports and activities, such as diving, snorkeling, and parasailing.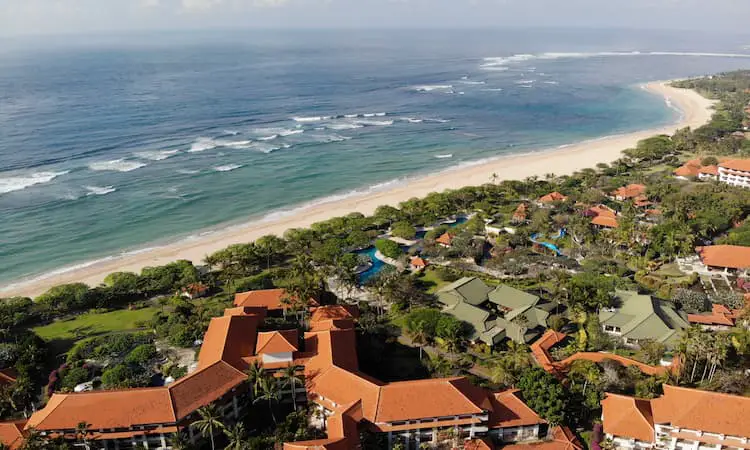 Where To Stay in Nusa Dua, Bali
Luxury Hotels in Nusa Dua, Bali
Mid-Range Hotels in Nusa Dua, Bali
03 Jimbaran – Best Place To Stay In South Bali for Seafood Lovers
Jimbaran is a small fishing village situated just within 10 km South of the airport. This was formerly a real backwater of South Bali, just a small town with a daily fish market and was famous among the locals only. In the 1980s, everything began to change and Jimbaran now houses many world-class 5-star beach resorts, plus a few more modest mid-market hotels.
However, there is little in the way of budget accommodation and in this area especially on the ridges of high ground above Jimbaran Bay, there are also many high-end villas. Apart from that, Jimbaran is probably one of the best places to stay in Bali for fresh seafood as there are huge numbers of great seafood restaurants all around the area.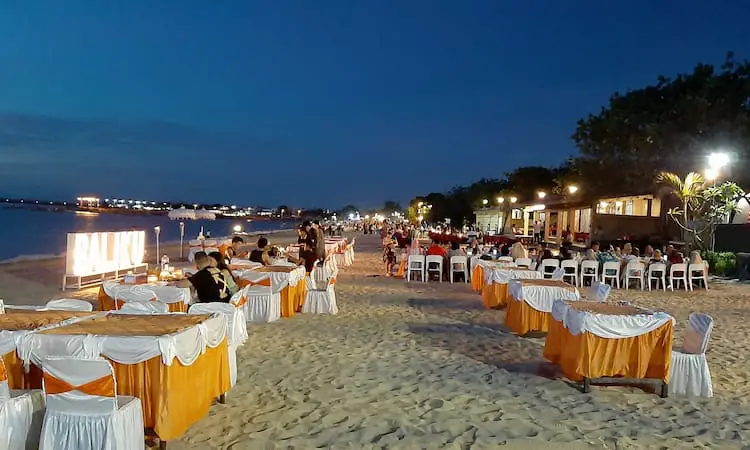 Where To Stay in Jimbaran, Bali
Mid-Range Hotels in Jimbaran, Bali
Budget Hotels in Jimbaran, Bali
04 Kuta & Legian – Best Places To Stay in Bali for Backpackers
Kuta Beach, situated in just 5 km North of airport  is the best known tourist area on the island of Bali in Indonesia and offers a decent surfing beach, despite being chronically overdeveloped. Kuta was originally discovered by visitors as a surfing paradise on this 5 km long, wide Indian Ocean beachfront.
Together with its neighboring Legian Beach, extending north from Kuta, a large number of budget hotels are available for most hardcore backpackers, as well as families and visitors from around the world. In fact, Kuta has long been a popular stop on the classic backpacking route in Southeast Asia. In addition, this area is also full of star-rated hotels, restaurants, villas, malls, bars, nightclubs of moderate scale, and so on.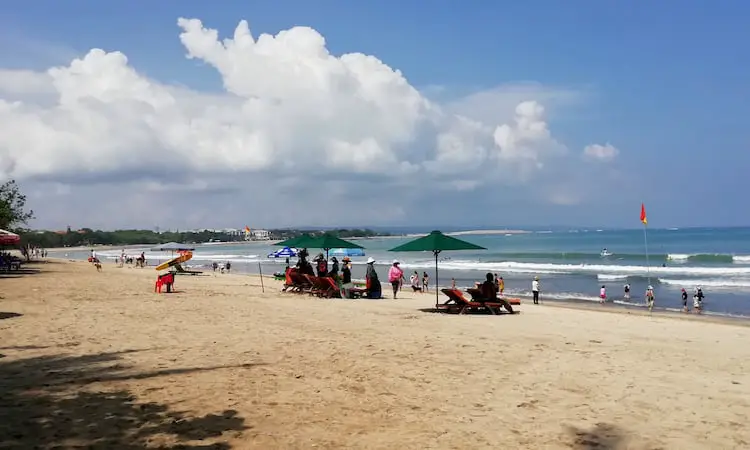 Where To Stay in Kuta & Legian, Bali
Luxury Hotels in Kuta & Legian, Bali
Mid-Range Hotels in Kuta & Legian, Bali
Budget Hotels in Kuta & Legian, Bali
05 Seminyak – Best Place to Stay in Bali for Nightlife
Located North of Legian Beach, Seminyak Beach is a beautiful white sandy beach. The atmosphere is much more laid-back than that of Kuta, and the beach is quieter throughout the day in particular. Tourists are drawn to this location because of the white sand strip 3 kilometres from Tuban. Seminyak Beach is known for its great waves, which are ideal for surfing adventures. As a result, many surfers flock to this beach to conquer the waves and have surfing adventures.
This beach also offers breathtaking views of the Indian Ocean, large white beaches, a wide range of public amenities, villas, world-class hotels, luxury spas, and exquisite dining businesses. Due to the high density of high-end retail combined with the clustering of many energetic pubs and dance clubs, it has quickly become one of the most well-known tourist destinations on the island.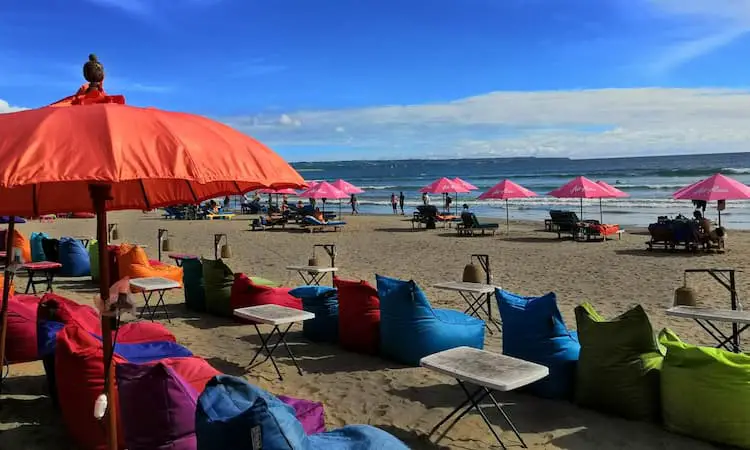 Where To Stay in Seminyak, Bali
06 Canggu – Best Place to Stay in Bali for Laid-back Holiday
Canggu is a small fishing village that lies approximately 20 minutes North of Seminyak. It has a long coastline of approximately 8 km, extending north from the town of Berawa (North of Seminyak) to the town of Cemagi (just South of Tanah Lot). The beaches are dark grey or black sand (volcanic sands) and are not especially good for swimming, but some popular and challenging surf spots are available. This area offer many traditional villages set among undulating rice fields and a good range of accommodation espeacially villas.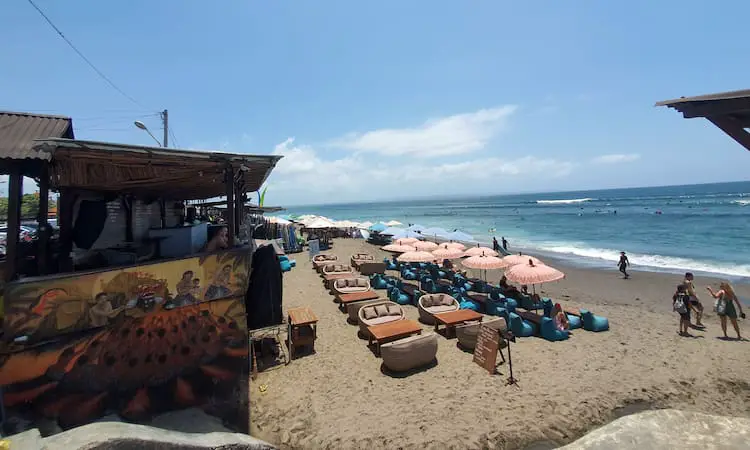 Where To Stay in Canggu, Bali
Mid-Range Hotels in Canggu, Bali
07 Sanur – Best Place to Stay in Bali for Families
Sanur is one of Bali's oldest upscale tourist regions and is a mature city on the beachfront. It has a calm and comfortable feel to it, despite the abundance of restaurants and accommodation. Hotels here in general are more costly than Kuta, but less expensive than Seminyak.
Sanur tends to appeal most to older and middle-aged families especially Europeans. Most hotels in Sanur are big, with spacious gardens. The splendid paved beachfront bike path of Sanur extends from south to north for around 5 km. This, particularly in the early morning, makes for a lovely scenic bike ride.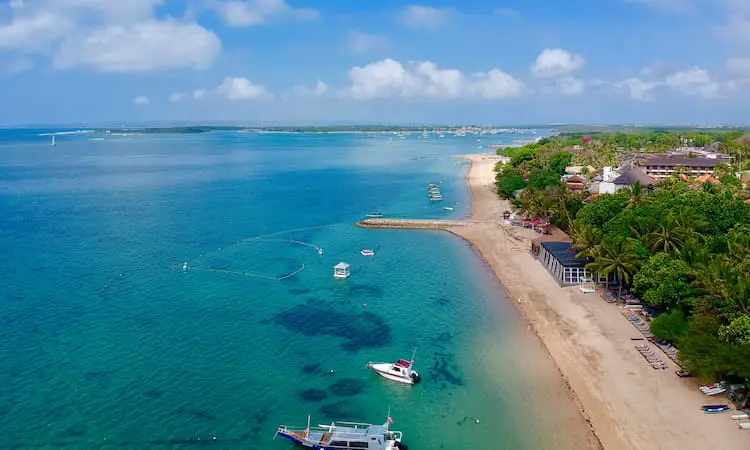 Where To Stay in Sanur, Bali
Luxury Hotels in Sanur, Bali
Mid-Range Hotels in Sanur, Bali
2 Best Places To Stay in Central Bali 
Central Bali situated in the central mountain range and the cultural heart of the island which famous for its art, culture, temples, lakes and treks. Central Bali appeals to most who are looking for a break from the sun, sand and partying in South Bali or to those who are looking for a more detailed understanding of this complex island with a prevalence of artistic, cultural, historical and scenic attractions. There are also some of Bali's most notable archaeological sites in this region.
01 Ubud – Best Place to Stay in Bali for Cultural Tour
Ubud is situated in between rice paddies and steep ravines that render a beautiful natural landscape. It is known as Bali's cultural center and is renowned as a centre for arts and crafts, and most of the towns and surrounding villages seem to consist of workshops and galleries for artists. 
For all budgets, Ubud has a wide range of accommodation. Instead of being in the town centre, many tourists tend to stay out in nearby rural areas, preferably with views of the popular rice terraces. Since its location is right in the center of the island, undoubtedly it is one of the best places to stay in Bali as most of the Bali day trips depart from here.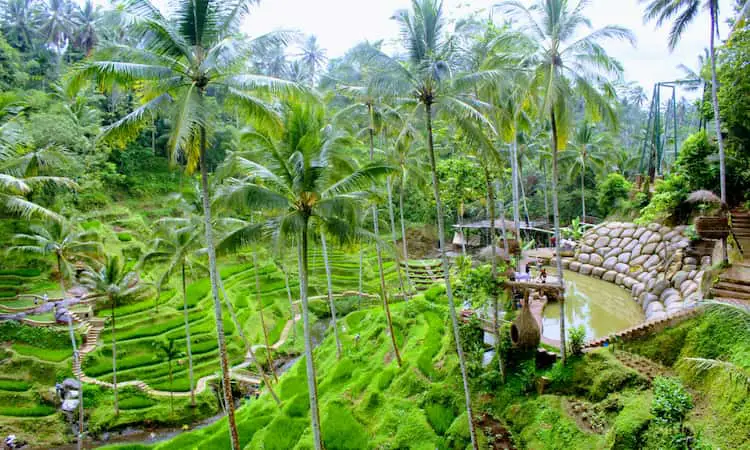 Where To Stay in Ubud, Bali
Mid-Range Hotels in Ubud, Bali
02

Bedugul – Best Place to Stay in Bali for Nature Lovers
Located in the center of the island near Lake Bratan, Bedugul is a popular tourist area with lakes and mountains in Bali. This is an area of outstanding natural beauty. The three crater lakes of Bratan (Beratan), Buyan and Tamblingan, and the nearby botanical gardens (one of the largest botanical gardens in Indonesia) are the focal points of the city. The entire Bedugul region is at an altitude of 700 meters and above, with the highest mountain peaking at an altitude of over 2,000 meters. Here it can be clearly cold. 
Bedugul is definitely one of the best places to stay in Bali for adventurers & nature lovers since there are quite some activities like canyoning, jungle trekking, bird watching, biking and even water sport on Lake Bratan. In terms of prices and accommodation opportunities in Bedugul and the surrounding area, there are several choices.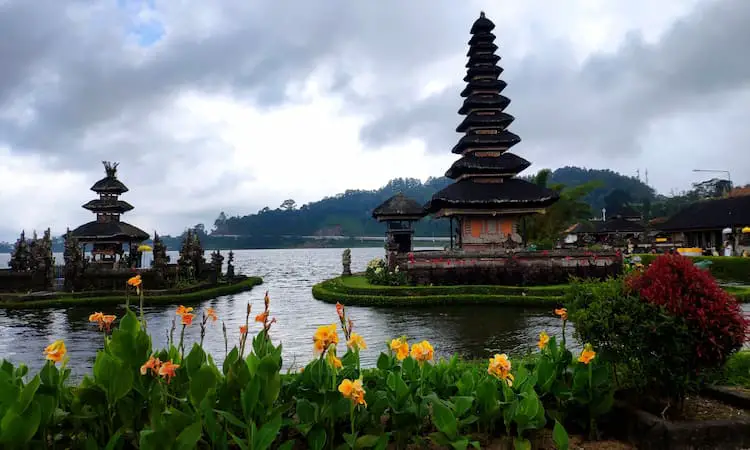 Where To Stay in Bedugul, Bali
Luxury Hotels in Bedugul, Bali
Mid-Range & Budget Hotels in Bedugul, Bali
2 Best Places To Stay in East Bali
East Bali is a large region which includes some of the island's most picturesque and least visited beaches. It has natural ecosystems that range from lush forests and beaches of black sand to barren plains of gravel and an active volcano. 
Most of the beaches here (but not all) are black sand and appear to be very narrow. The beaches around Candidasa are the most visited and Amed is becoming increasingly popular in the far east of the region. You can find attractive waterfront villages, some much more visited than others all the way along the south coast from Padang Bai to far beyond Candidasa. Mighty Mount Agung, Bali's highest volcano, overlooks the whole of East Bali and hosts Pura Besakih, Bali's holiest of temples. East Bali offers as much for tourists as any of the regions in Bali.
01 Candidasa – Best Place to Stay in Bali for Couples
Candidasa or Candi Dasa, is a a peaceful coastal town full of fascinating beauty and rich history. The town is based around Jalan Raya Candida, where the main road is lined with a variety of hotels, restaurants and shops. With a wide variety of accommodation options, this is a laid back and very relaxing area of Bali. Many tourists, especially Europeans, combine a stay with a more relaxed break here in the hotspots of South Bali. The beaches of black sand are very small and frequently vanish at high tide altogether.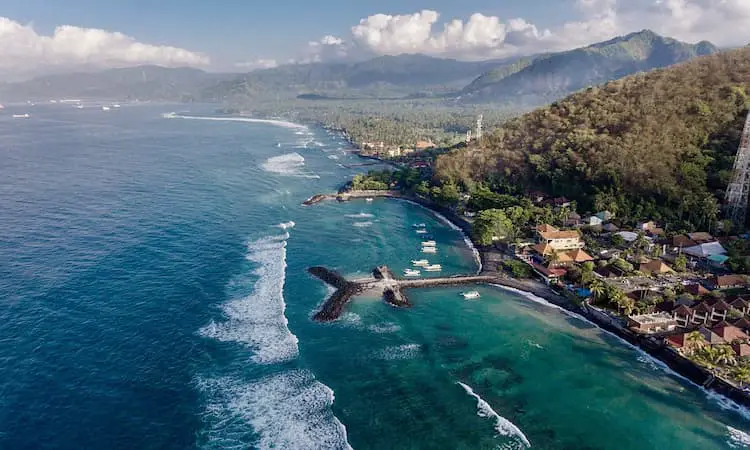 Where To Stay in Candidasa, Bali
Luxury Hotels in Candidasa, Bali
Mid-Range Hotels in Candidasa, Bali
Budget Hotels in Candidasa, Bali
02 Amed – Best Place to Stay in Bali for Scuba Divers
Amed is a peaceful region of traditional fishing villages with black sand beaches, coral reefs and outstanding freediving or scuba diving. It has a long stretch of coast running about 14 km east from the village of Culik, including seven villages. The pace of life here is slow and the coastal landscape is very impressive, making Amed one of the best places to stay in Bali for a relaxing holiday.
Most individuals, including expats from other parts of the island, come to Amed as a getaway. For visitors, it is a favorite honeymoon destination and is very popular with divers and snorkelers. Enjoy nature and go with the wind on a traditional sailing boat for diving, fishing, exploration, dolphin watching, snorkeling or just swimming and relaxing. There is a wide selection of hotels in Amed and mostly tend to be quite small and intimate and built by westerners in partnership with local Balinese.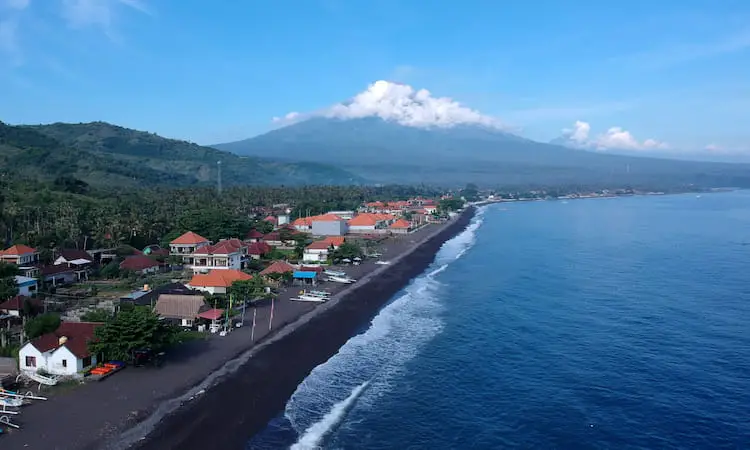 Where To Stay in Amed, Bali
Mid-Range Hotels in Amed, Bali
Budget Hotels in Amed, Bali
Best Places To Stay in North Bali – Singaraja/Lovina
North Bali is a quiet coastal region with black sand beaches and coral reefs. The whole of this area is renowned for its beaches of black sand and none more so than the long stretch of coastline known as Lovina to the west of Singaraja. Among the common activities in the area are diving and snorkeling. 
Singaraja is North Bali's largest city and Bali's former colonial administrative capital. It still has some of the feel of an old colonial capital. The streets are wider and grander than elsewhere in Bali and some of the old houses set in large gardens recall days long gone.
Lovina is another area of the region which often visited by tourists. It is popular with tourists who want a holiday on the beach in Bali but do not want the hectic pace of South Bali's resort regions.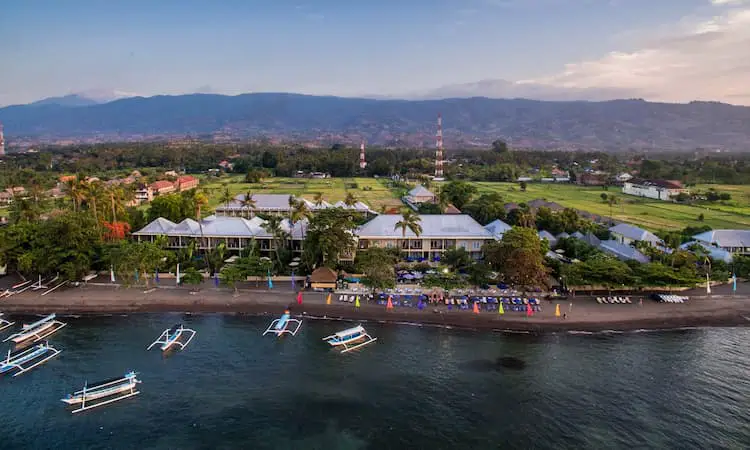 Where To Stay in Singaraja/Lovina, Bali
Luxury Hotels in Singaraja/Lovina, Bali
Mid-Range Hotels in Singaraja/Lovina, Bali
Budget Hotels in Singaraja/Lovina, Bali
Recommended Hotels In Bali
Best Places To Stay In Malaysia
Best Places To Stay In Thailand
Best Places To Stay In Indonesia