Best Things To Do In Koh Samui
Koh Samui is well-known as the "Paradise in the Gulf of Thailand" by both local & foreign visitors. The island is a perfect place for those who want to experience the beauty of long coastline alongside the sea, coconut trees along coastline, and crystal-clear water. These charms make those who had visited Koh Samui wish to come back to the island again and again. Fresh seafood is also another charm of the island.
Apart from its wonderful scenery and its clear water, there are also many best relaxing things to do in Koh  such as water therapy by showering or bathing with mineral water or hot water, massage therapy, or botanical therapy using natural aroma for relieving. Both hotels and specialized spa centers provide these activities with relaxing atmosphere, convenience, and excellent service.
20 Best Things To Do In Koh Samui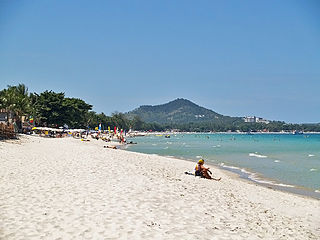 Chaweng Beach, just about few minutes away South of Samui Airport offers an incredibly broad range of activities like jet ski, banana boat, donuts ride, fly board, parasailing, wake board and many more. This variety of activities offering obviously attracts a diverse range of travelers, from young backpackers, sporting teams, singles, couples, honeymooners, wedding party's and families. While on the beach, many vendors will stop and offer beverages, fruits, ice cream and local Thai food cooked on small portable BBQ's. – Best place & best thing to do for all travelers in Koh Samui.
High Park Slide Club Samui, a must visit place in Koh Samui is just within 5 km from Chaweng beach. The park occupied 2600 square meters of space with 3 main pools, slides, infinity pool, climbing wall, bumper cars & many more activities which could let you spend a whole day here with your friends and family. So, enjoy your pool parties & music which host by world renown guest DJ.
Best Thing To do in Koh Samui for Party Lovers
03 Off Road ATV Tours & Go Karting – Best Thing To Do in Koh Samui for Adventurers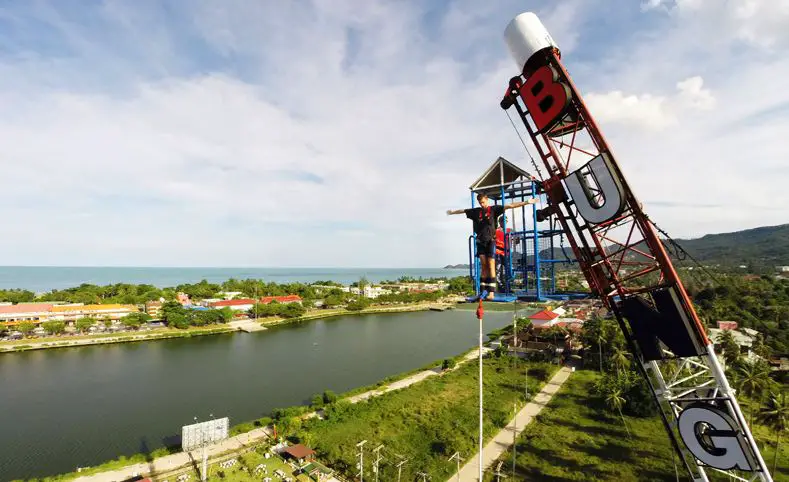 Samui Bungy Jump, about 2.5 km from Chaweng beach, is the one & only bungy jump in Koh Samui. A British owned business had been operating safely on the island since 2001. Experience the jump with some great views of the island and temples here.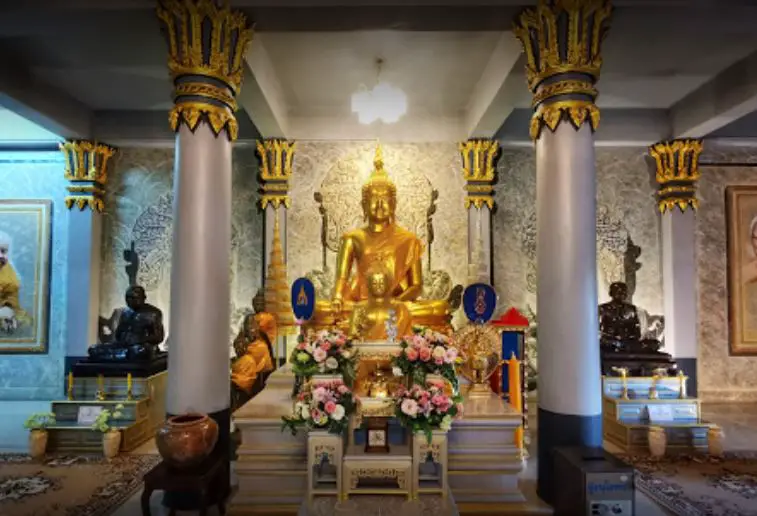 Wat Khao Hua Jook, about 4 km from Chaeng beach, is one of the popular viewpoint & an impressive temple & pagoda on Samui Island. It offers a spectacular 360-degree view on top of the hill, including runway of the airport, surrounding islands and a Golden Buddha in the temple. This is also a good choice for those sunset lovers during evening.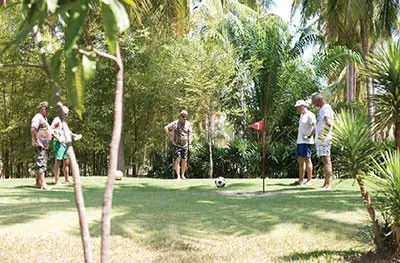 Samui Football Golf, about 8 km from Chaweng beach, is a popular game & getting more well-known around the world now. The club offers great atmosphere and  very impressive course layout. For example on the 70m long Hole 6 which is named "Cruyff's Turn", it's necessary to navigate a U turn around a Durian tree before holing for a tricky Par 4. This is a perfect fun place to visit with friends or kids.
Opening hours: Daily 9 am to 6:30 pm
Big Buddha Temple or commonly known as by local, is situated on a small island Northeast of Koh Samui near Bang Rak beach and it is just within 5 km away from Samui Airport. Wat Phra Yai is a home of the giant 12-meters high (39-foot) gold-painted Buddha statue which was built built in 1972. There is also a bazaar within the temple grounds selling tourist items like souvenirs , cloths as well as amulets and other Buddhist items. It has become one of Ko Samui's main tourist attractions and a major landmark.
Wat Plai Laem, is another breathtaking colorful temple which is just about 1.5 km away from Big Buddha Temple. This is a modern Buddhist temple which combined both of the Chinese & Thai elements. The temple has 2 main statues, "GuanYin" with 18 arms & "Budai" Chinese Monk. Wat Plai Laem is surrounded by an artificial lake and visitors could feed the giant catfish in the lake. The temple may consider as  the most beautiful temple in Samui Island.
09 Elephant Jungle Sanctuary & Jungle Safari Tour
Wat Khunaram, a home for the famous mummified monk Luang Pho Daeng (Luang Pordaeng). He was a Thai Buddhist monk, who died in 1973 while meditating. His body has remained in the specially-made glass case since his death and amazingly, shows only a few signs of decay. The mummy is unique for sporting a pair of sunglasses, placed by the caretakers to hide the decomposed eye sockets to make the display less disturbing. The temple is located in the area between Na Muang and Hua Thanon on Thai route 4169, the main route around the island.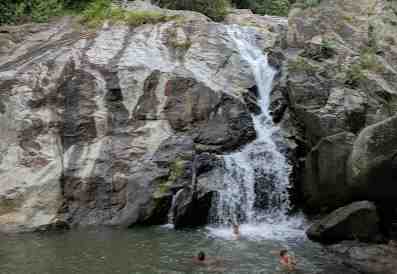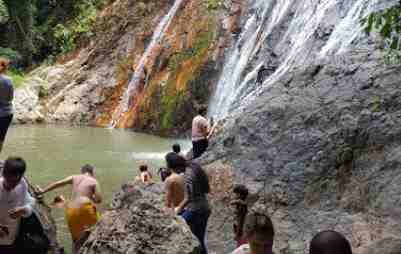 Besides the attractive beaches, Samui Island also offers bunch of picturesque waterfalls in hidden forest.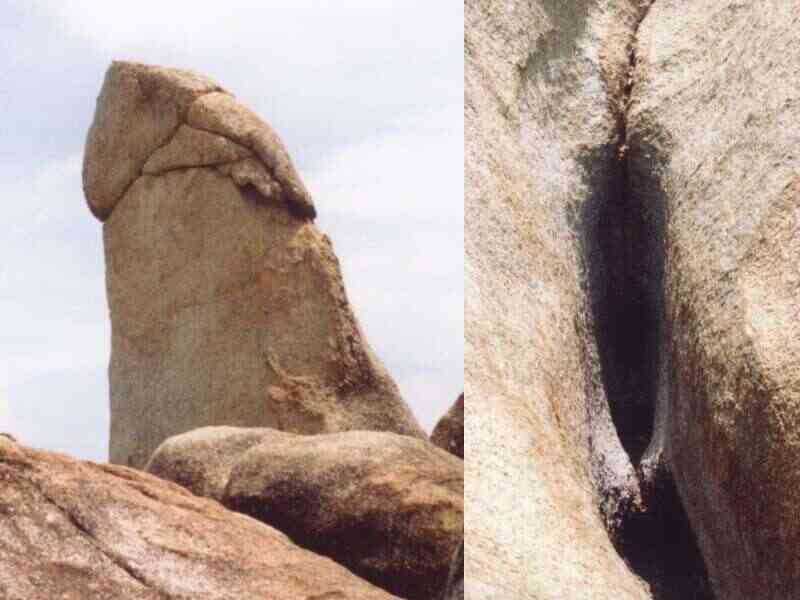 Hin Ta and Hin Yai, also known as Grandfather's & Grandmother's Rocks is the famous rock formations that look alike the male and female genitals. What makes these rocks even more peculiar is that there are near to each other. There's a small beach near Hin Ta and Hin Yai. It's not for swimming but it gives you time to get your feet cold. There's also some souvenir shops selling postcards, drinks and snacks like "galamae," a local sweet.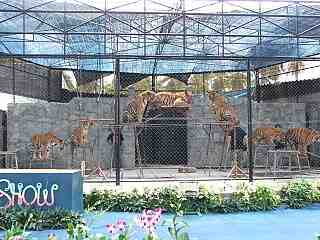 Samui Aquarium and Tiger Zoo, is about 18 km South of Chaweng beach. In Samui Aquarium, you'll explore diversity species of fish and underwater creatures from the Thailand Gulf, particularly Koh Samui. A Samui Business man in love with nature and animals has built this Aquarium, Tiger Empire, Bird Shows, Sea Lion Shows and others. It is definitely fun and it's a great experience for little kids.
Best Thing To do in Koh Samui with family.
15 Koh Pha Ngan (Ko Phangan)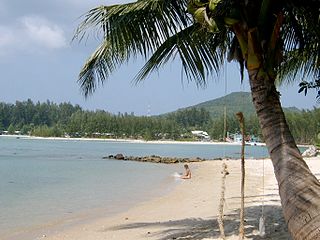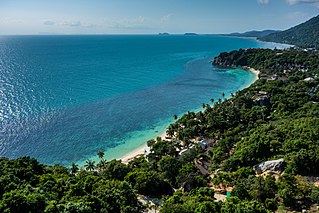 Koh Pha Ngan, is the 5th. largest island of Thailand which is about 15 km from Koh Samui. The island is best known for its Full Moon Party where it is an all-night beach party that originated in Haad Rin Beach on the island of Koh Pha Ngan, Thailand in 1985. The party takes place on the night of, before, or after every full moon.The event primarily features electronic music and attracts around 30,000 party-goers in a normal month. There are at least 3 ferries a day from Koh Samui's "Big Buddha" pier directly to Haad Rin. Ferries also leave from Nathon and Mae Nam piers to Thong Sala pier (Ko Phangan) several times a day.
Explore the beauty of Koh Pha Ngan Island, through exciting day, evening and adventure tours. Experience, diving, snorkeling, kayaking, speed boat excursions to Ang Thong National Marine Park, Muay Thai, fishing trips, cultural tours, elephant riding. With so many things to see and do, your time on Koh Pha Ngan will be truly memorable.
Koh Tao, is an isolated small island of approximately 21 km², located 45 kilometers Northwest of Koh Pha Ngan. The island is well known for scuba diving and snorkeling, as well as hiking, rock climbing, and bouldering. The most popular place for tourists is Sairee on the west coast, which has a white sandy beach of 1.7 km interrupted only by a few huge boulders and a scattering of medium budget resorts and restaurants. Koh Tao is also an island with lush nature, abundant marine life, beautiful coral reefs in both shallow and deep sea & a wide variety of colorful fishes.
Best Thing To do in Koh Samui for snorkelers.
17

Mu Ko

Ang Thong National Marine Park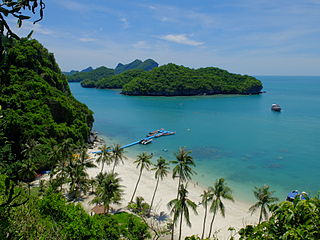 Ang Thong National Marine Park, is the second national marine park in Thailand, approximately 20 kilometers Northwest of Koh Samui. It covers 42 islands (mostly limestone islands) in a total area of 102 km2, of which about 50 km2 are land and the rest is water. Most of the islands are close to each other, making a breathtaking panorama when sailing around the park.
Caves, hidden lagoons, and white sand beaches are there to be explored and snorkeling among the shallow coral gardens makes for a popular and fascinating day trip.
18

Muay Thai (Thai Boxing)
20 Scuba Diving & Snorkeling