BEST TIME TO VISIT PHUKET
When it comes to deciding when is the best time to visit Phuket, the climate is usually not a major consideration. Phuket has a tropical monsoon climate, with little difference in temperature throughout the year due to its proximity to the equator. The weather is hot and humid all year, with typical temperatures ranging from average annual high around 34 °C while the average annual low is about 24 °C. When planning a trip to Phuket, only the rainy and hot seasons should be taken into account, and it all depends on what activities you enjoy the most.
Best Time To Visit Phuket By Month
End November to March - The Best Time To Visit Phuket For All Activities (Dry & Peak Season)
This period is referred to as Phuket's "dry season." The weather is normally pleasant and dry, with typical temperatures ranging from 24 to 32 °C. If you appreciate sunbathing while overlooking the calm blue seas and pure blue skies with a mild wind, this is perhaps the best time to visit Phuket. 
Because the weather is great for all outdoor activities like watersports and sightseeing, these months are also regarded as super peak season, with air tickets and lodging prices potentially skyrocketing. For some reason, this may be the worst time to visit Phuket for budget travelers.
April to Early June - The Best Time To Visit Phuket For Songkran Festival (Hot Season)
The hot season lasts from April until early June, with average temperatures of around 33 °C and occasionally reaching 40 °C. From end April, the monsoon season will begin, and beaches on the west coast will see severe waves. All swimming, snorkeling, and scuba diving areas will be closed by April.
While it may not be the most popular time to visit the island for most beachgoers, it is the best time for most Asians to celebrate Songkran, Thailand's New Year. It is usually celebrated on April 13th and lasts for at least three days around the country, with tourists and locals engaging in pleasant "water fights" on the streets. Apart from the Songkran Festival, the rest could be the best time to visit Phuket for families since all hotels and flight tickets are cheaper, and most significantly, you can avoid the crowds of peak season.
July to October - The Best Time To Visit Phuket For Budget Travelers & Backpackers (Rainy & Low Season)
Locals classify these months as rainy season since there will be a mix of rain and sun in July and August, which is rather ideal for sightseeing and indoor activities like shopping. The monsoon, on the other hand, will bring heavy rains to Phuket in September, October, and early November, making it the worst weather and time to visit Phuket. 
As a result of the lesser crowds, these months frequently provide the best deals on hotels, car rentals, restaurants, and even flights. This could be the best time to visit Phuket on a budget, especially for backpackers, if you don't mind remaining indoors and missing out on the beaches.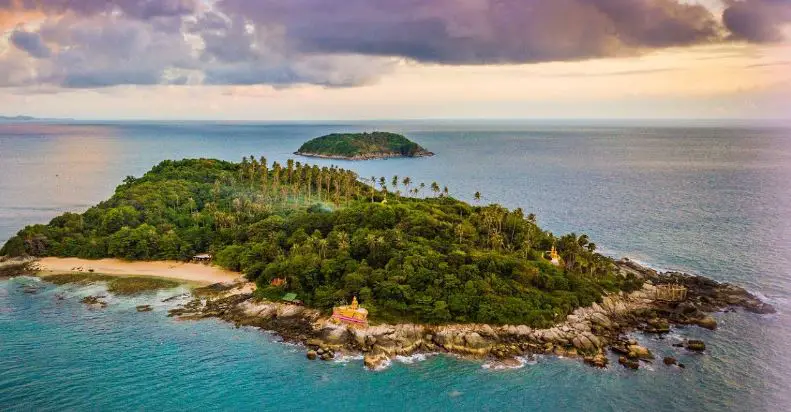 Phuket Island, located in the southern section of Thailand, is the country's largest island, measuring 48 kilometres in length and 21 kilometres at its widest point. The Andaman Sea, off Thailand's west coast, is home to Phuket island and 32 other smaller islands. Mountains cover 70% of Phuket's area, ranging from north to south. Plains in the island's centre and eastern corners make up the remaining 30%. Khao Mai Thao Sip Song (Twelve Canes), at an elevation of 529 metres (1,736 ft), is commonly considered to be the highest point.
Phuket is famous for its beautiful beaches, crystal clear sea, coral forests, pearl farms, limestone cliffs, caves, mangroves, fishing communities, and national park. Nonetheless, tourism has recently become Phuket's main income, transforming the island into Thailand's richest province. As a result, expect rates to be higher than on the mainland, particularly during peak season.
There are several options for getting to Phuket depending on how you arrived in Thailand. Traveling by car to Phuket, 860 kilometres south of Bangkok, will take you roughly 12 hours. Phuket International Airport (IATA: HKT), located in the north of the island, serves frequent flights to and from Bangkok, as well as direct flights to several other regional airports, including Singapore and Kuala Lumpur, and direct charters to Europe and Australia. From Phi Phi Island and Krabi, ferries are also available.
By Plane
(BKK) Suvarnabhumi Airport ➔ (HKT) Phuket International Airport (About 1.5 hours flight time) 
Below you can search, compare, and book available flights from Bangkok to Phuket (Daily update). On the Flight / Hotel page, you can also search for the cheapest ticket from all over the world.
By Boat
Koh Phi Phi ➔ Phuket – By ferry  (About 2 hours), By speed boat (About 45 minutes)
Because Phuket is such a large island, travelling around will necessitate the use of some mode of transportation. Within Phuket, there is just a radial network connecting Phuket Town and the coastal villages, with taxis and tuk-tuks being the only viable choices. Another option is to rent a car or a motorcycle and explore the island on your own, albeit this is riskier. This is the most cost-effective method of venturing off the main road. However, the risks must be carefully examined, given the majority of foreigners' driving habits and the yearly incidents on Phuket's roads.