Best Places To Stay in Hua Hin
Hua Hin, a 6 km long beach with fine powdery sand, is one of Thailand's top tourist destinations due to its abundance of attractions and activities, as well as its proximity to Bangkok. The city and its neighbouring Cha-Am (approximately 30 km north of Hua Hin) are home to some of Thailand's most beautiful beaches, mountains, vistas, temples, night markets, water parks, and restaurants, making it one of the country's most popular beach resort towns.
Aside from the more touristy Hua Hin and Cha-Am beach, Khao Takiab Beach and Pranburi to the south of Hua Hin are also among the best places to stay. Accommodation along the beach and on the streets leading away from the sea ranges from simple guesthouses to luxury resorts, including some of the world's finest spa-retreats.
4 Best Places To Stay in Hua Hin
Cha-Am Beach, located approximately 175 kilometres southwest of Bangkok, is well-known for its length and cleanliness. It is a popular weekend getaway for local couples, expats, senior citizens, and families looking for a romantic outing or peaceful holidays. This premier and popular seaside resort town offers a variety of accommodations ranging from simple budget hostels to star-rated resorts/hotels.
Nearby attractions include Maruek Kathayawan Palace, Phra Ramrachaniwet Palace (Baan Puen Palace), Phra Nakorn Khiri Royal Palace (Khao Wang), Hat Puek Thien, and Hat Chao Samran.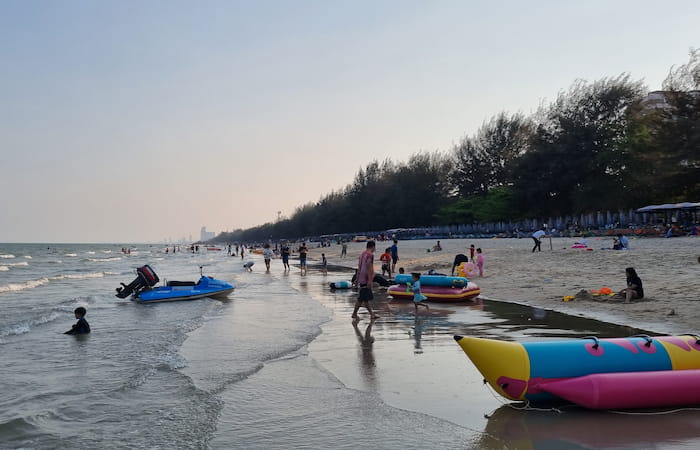 Where To Stay in Cha-Am Beach, Hua Hin
Luxury Hotels in Cha-Am Beach, Hua Hin
Mid-Range Hotels in Cha-Am Beach, Hua Hin
Budget Hotels in Cha-Am Beach, Hua Hin
02

Hua Hin – Best Place To Stay in Hua Hin For Nightlife
Hua Hin, about 25 km from Cha-Am beach is another weekend getaway spot from Bangkok and as an expat retirement or holiday home location. The 6 km white & clean sandy beach offers wide range of accommodations from bungalows to five-star hotels and resorts as well as attractive nightlife spots. For your information, hotel and resort prices in this area are relatively higher when compared to its neighbours.
Not only the beach, Hua Hin is also a great place for contemporary art handicrafts, hand-woven printed cotton, silk fabric, silk weaving, embroidery, baskets, pottery, wood carvings, gemstones, and jewellery (including sapphires and rubies). Haggling is mandatory to get the best prices possible.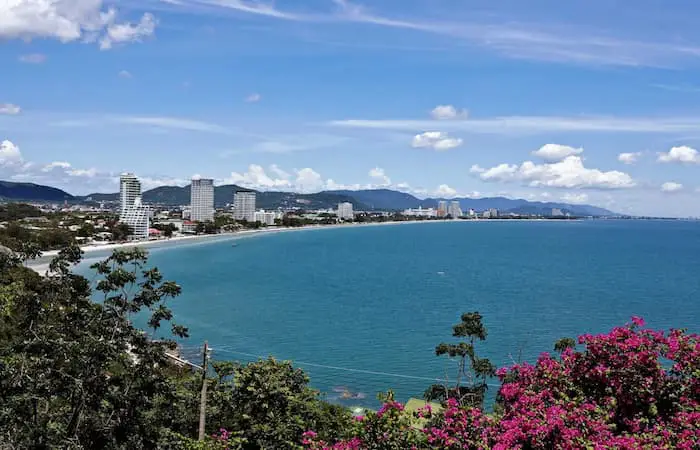 03 Khao Takiab – Best Place To Stay in Hua Hin For Epic Scenery 
Khao Takiab beach, about 7 kilometers South of Hua Hin & a continuation of Hua Hin beach. It can be easily reached by local minibus & it is the location of the pier if you take ferry from Pattaya. There is a hill right on the beach & it is known as monkey mountain (large numbers of monkeys on the hill) or Chopstick hill. A Temple call Wat Khao Takiap situated on top of the hill & a 20 meters tall giant golden Buddha statue standing against a cliff. Tourists can go up the hilltop to enjoy a bird's eye view of Hua Hin, which is one of the delightful views either during the day or night.
Along Khao Takiab Beach, you can stop for lunch and enjoy the glistening ocean and water sport enthusiasts making the most of it. A few temples are within the area, the major one being Wat Huaymongkol, home to a statue of revered Buddhist monk, Luang Phor Thuad.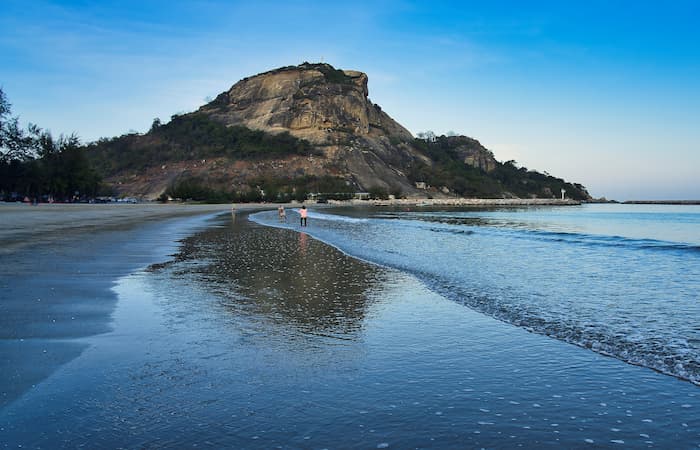 Where To Stay in Khao Takiab, Hua Hin
Luxury Hotels in Khao Takiab, Hua Hin
Mid-Range Hotels in Khao Takiab, Hua Hin
Budget Hotels in Khao Takiab, Hua Hin
04 Pranburi  Beach – Best Places To Stay in Hua Hin For Families
Pranburi beach, about 25 km South of Hua Hin Beach or about 20 km South of Khao Takiap Pier, is the most famous beach destination in Hua Hin. The 7 km long beach is a charming and peaceful area for those who just want to relax in a private atmosphere. The less developed beach is not so crowded with people like Cha-am or Hua Hin & you will notice more natural beach in this area. There is a seaside road along the beach where you can drive to see the scenery of the white sandy beach and the sea.
Along the way you can find varieties of seafood, especially at the beginning of the beach. The hotels and resorts in Pranburi have their own unique outstanding design. Pranburi beach also provides a pedestrian bridge as a walkway near the Forest Park Office for tourists, students and those who are interested in mangrove forest condition or wildlife in this mangrove forest.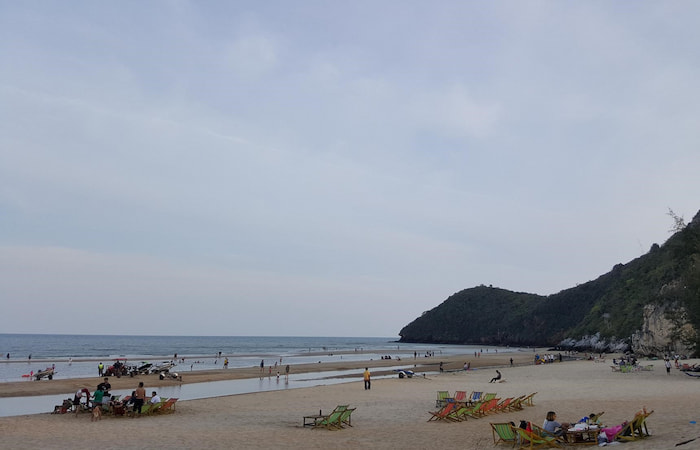 Where To Stay in Pranburi Beach, Hua Hin
Luxury Hotels in Pranburi Beach, Hua Hin
Mid-Range Hotels in Pranburi Beach, Hua Hin
Budget Hotels in Pranburi Beach, Hua Hin
Recommended Hotels In Hua Hin
Best Places To Stay In Thailand
Best Places To Stay In Malaysia
Best Places To Stay In Indonesia