BEST TIME TO VISIT
KUALA LUMPUR
Kuala Lumpur Climate & Weather
Due to its proximity to the equator (approximately 280 km north of equator), Kuala Lumpur (KL) has a year-round tropical rainforest climate that is warm and sunny with plenty of rainfall. The best time to visit Kuala Lumpur, on the other hand, varies from person to person and is heavily dependent on your personal preferences.
Kuala Lumpur is protected from severe winds by the Titiwangsa Range (a chain of mountains that forms the Malaysia Peninsula's backbone), thus there is no obvious seasonal fluctuation. Temperatures tend to remain constant throughout the year and it is slightly cooler than other cities in Peninsular Malaysia.
The capital city does not have a winter, spring, or any other season as some people may claim; it only has a rainy and hot season, with the weather in KL being described in six words: hot, hotter, hottest, wet, wetter, and wettest. The annual mean temperature is roughly 27 °C, with maximums ranging from 32 to 35 °C and occasionally reaching 38 °C during the hot season, and minimums ranging from 23 to 25 °C. In terms of rainfall, KL receives a minimum of 2,600 mm (100 in) every year.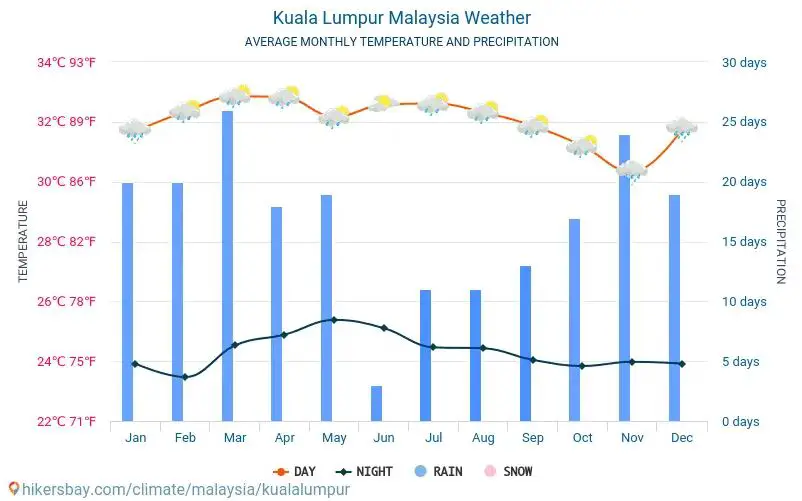 Best Time To Visit Kuala Lumpur By Month
October to March (Rainy Season) - Best Time To Visit Kuala Lumpur For The Bustling Festive Atmosphere
These are the rainy months in Kuala Lumpur, with the northeast monsoon bringing heavy rains that can occasionally flood certain parts of the city. Nevertheless, the downpours are normally fierce & short, it seldom last for a few hours. You can still spend a couple of hours wandering around the busy city in the hot sun and clear blue sky.
Kuala Lumpur has a strange phenomenon in which the raining hour usually occurs in the late afternoon just before the off-working hour of 5 pm, causing severe congestion throughout the city and its surrounding areas. As a result, if it is raining, try to avoid getting around the city during these hours.
November is usually the wettest month, with an average rainfall of around 300 mm, while January and February have the least amount of rain, with an average rainfall of around 170-190 mm during this rainy season. Temperatures, on the other hand, remain high even throughout the rainy season, ranging from 30 to 36 °C during the day and 24 to 30 °C at night.
Apart from the dry season, Kuala Lumpur has a peak season from December to February, despite its considerable precipitation, particularly during festive periods such as year-end Christmas and New Year eve, as well as the Thaipusam and Chinese New Year in January/February. The majority of the popular & famous shopping areas like Bukit Bintang, KLCC, and Petaling Street are beautifully decorated. This is unquestionably the best time to visit Kuala Lumpur to experience the city's multi-ethnic and cultural atmosphere.
In terms of flights and hotels, expect higher rates, particularly for flight tickets, which might increase by 20% to 30% both internationally and domestically. In terms of accommodations, unlike most major Southeast Asian cities such as Bali, Phuket, Pattaya, Bangkok & Manila, hotel prices in KL do not spike by more than 30% during peak season. 
April to September (Dry Season) - Best Time To Visit Kuala Lumpur For All Activities
Despite the fact that there are still frequent rains, these months are considered Kuala Lumpur's dry season. The drier months are from May to September, with June being the driest month of the year. These months may be considered the best time to visit Kuala Lumpur in terms of weather. The average high and low temperatures are quite similar to the rainy season, with some days reaching 38 °C. 
Most people prefer to travel during the dry months, so June to mid-September is the best time to visit Kuala Lumpur for all outdoor activities like visiting the National Zoo, Bird Park, Batu Caves, Sunway Lagoon Water Theme Park, and so on. As a result, this is another peak season in Kuala Lumpur, with higher rates for flights and hotels. If you are on a tight budget, visit Kuala Lumpur during the off-season months of March, April, May, October, and November. You will get the best deals on flights and hotels if you book a little ahead of time.
Kuala Lumpur is Malaysia's capital and largest city. Officially, it is known as the Federal Territory of Kuala Lumpur, but it is more commonly known as KL. The city centre merges with its neighbouring cities of Petaling Jaya, Subang Jaya, Shah Alam, Klang, Port Klang, Ampang, and others to form Greater Kuala Lumpur, also renowned as Klang Valley.
With the PETRONAS Twin Towers (KLCC), one of the world's most recognisable landmarks, as a backdrop, KL is undoubtedly a place where everyday enjoyment and world-class refinement collide to create a one-of-a-kind destination for all visitors. Culture, heritage, retail, entertainment, nature and adventure, sports, and gastronomy are just a few of the attractions in the sprawling town. 
KL is also well-known as a shopper's paradise. All of KL's major premium retail malls, particularly those in the Bukit Bintang neighbourhood, are now linked by comfortable walkways and bustling night bazaars, providing shoppers with a plethora of options. In 2013, CNN Travel ranked KL as the world's fourth best shopping destination.
How To Get To Kuala Lumpur
Kuala Lumpur is the main gateway to Malaysia's diverse attractions. It has two airports: Kuala Lumpur International Airport (KLIA – KUL IATA) and Sultan Abdul Aziz Shah Airport (Subang Airport – SZB IATA). KLIA (about 60 kilometres south of Kuala Lumpur in the Sepang district of Selangor) is used by almost all major international airlines that fly to Malaysia, whereas Subang Airport (about 30 kilometres west of Kuala Lumpur) is primarily used by airlines with turboprop aircraft for domestic flights as well as certain flights from neighbouring countries. From both airports, numerous buses and taxis, as well as train services, are available to transfer you to the city.
Domestic Flights (Daily Update)
International Flights (Daily Update)