Best Things To Do In Hua Hin
There are bunch of best things to do in Hua Hin besides the beautiful & shallow white sandy beaches. Hua Hin also offers some great inland activities like amusement park, water park, theme shopping village, night market, golfing, waterfall,elephant camps and trekking & many more. This is definitely a great destination to spend your holidays with your love one & families. 
16 Best Things To Do In Hua Hin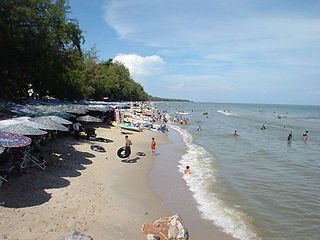 Cha-Am beach (Hat Cha-Am), a premier beach resort of Phetchaburi which is just as beautiful as the neighboring Hua Hin Beach. Originally a fishing village, Cha-am received much attention after the royal palace, Maruekhathaiyawan, was built near Hua Hin in the reign of King Rama VI. There are a variety of water sports that can be enjoyed, while a possible alternative to water sports is bicycle riding along a 6-kilometer sandy white beach. During  weekdays the beach is virtually deserted and there are beach umbrellas and sling chairs are available for hire.
02 Khao Nang Phanthurat Forest Park – Best Thing To do in Cha-Am, Hua Hin for Adventurers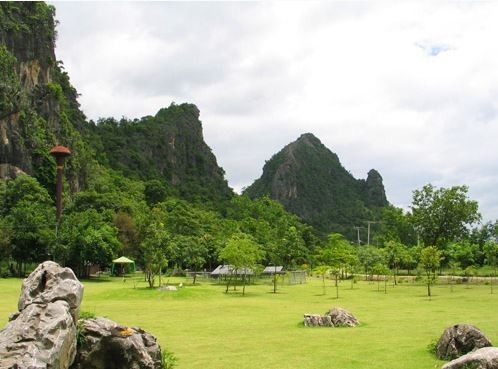 Khao Nang Phanthurat (Khao Chao Lai Yai) is an important attraction either for its natural resources or its historical background. Great outdoors location with so much to offer to people who loves trekking. Along the road to the forest park, there are stand-alone mountains of which surface appears to undergo some kind of explosion and drilling, giving away the collapse of limestone layer in the past. Once entering the area of preservation and restoration of Khao Nang Phanthurat Forest Park, the sight is replaced with the greenness of thickly grown tree and the atmosphere becomes a forest-fresh that is completely different from that of the city area.
03 Santorini Park Cha-Am (Cha-Am Area)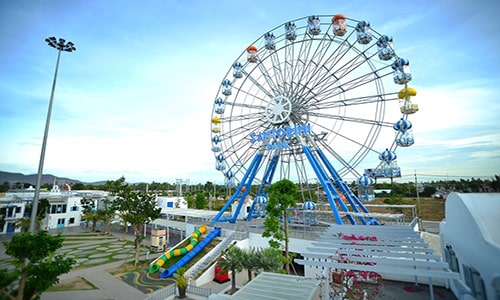 Santorini Park Cha-Am, located just about 10 km from Cha-Am beach. It was built in the same way as on Santorini Island, Greece & this is one of the best place to have your photo session in Hua Hin. The Park is divided into a variety of attractions, including the worm wall for children 6-10 years old, carousel and rocking horse and Imaginery Rocking Horse, 40-meter high Ferris wheel that has 360-degree of views, giant swing, thrilling attractions with 7-dimensional and 4-D movies and restaurants.
04 Maruekhathaiyawan (MRIGADAYAVAN) Palace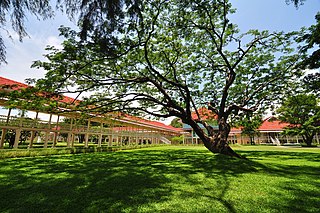 Maruekhathaiyawan Palace,  is a former residence of King Vajiravudh, or Rama VI, who ruled Siam from 1910 to 1925. This seaside Palace, often referred to as "the palace of love and hope" is located in between Cha-Am and Hua Hin. It was built in 1923 under the royal command of King Rama VI using golden teakwood from the demolished Hat Chao Samran Palace & on 2 September 1981, the Palace was registered as a heritage site.
The inspiration of this magnificent project comes from the charm of Venice, the world's famous city of rivers. The Venezia has brought you the only experience that you will never find in Thailand with some major magnificent Venice's symbolic landmarks, i.e. St. Mar's square and Bell Tower, world's famous tourist attraction landmark of the Venice. Another symbolic place of the Venice, of course, The Grand Canal, will be routed for more than 200 meters deep into the heart of the theme shopping village with the Gondolas service floating same as in the atmosphere of the Venice. 
06 Pa La-U Waterfall in Kaeng Krachan National Park
Pa La-U Waterfall in Kaeng Krachan National Park, a 1000-year old forest is the largest national park of Thailand. It is about 65 km West of Hua Hin & near to the border with Burma. A 16-tiered waterfall located in the verdant forest area of Kaeng Krachan National Park where various kinds of birds and butterflies are found. Some levels of the waterfall are reachable through Trekking trails, of which visitors may be able to spot some wildlife animals and several species of rare birds along the way. The best time to visit the fall is from November to April.
07

Black Mountain Water Park &

Vana Nava Waterpark – Best Thing To do in Hua Hin for Family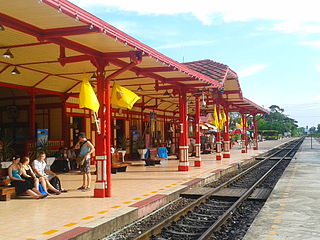 Hua Hin Train Station, less than 1 km West of Hua Hin beach is one of the Thailand's oldest & most beautiful train stations with unique architecture. It is popular as an landmarks and photo spots of Hua Hin for tourists. The station was built in the reign of King Rama VI, the station features a Royal Waiting Room with Thai architectural style, a room which was relocated from Sanam Chan Palace in Nakhon Pathom province.
10 Monsoon Valley – Best Thing To Do in Hua Hin for Wine Lovers.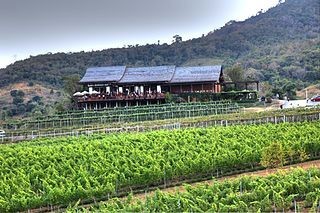 Monsoon Valley, formerly known as Hua Hin Hills Vineyard is the first and only one farm in Hua Hin district. There are wide variety of grapes – Columbard, Chenin Blanc, Shiraz, Brunello and other 20 species growth in this farm. As soon as you step in this yard, you will see an order row of grapes in the yard surrounded by mountains that provide warm and romantic atmosphere. The best time to visit the farm is between February and March each year because it is a harvest season. 
11

Sam Phan Nam Floating Market

 
Sam Phan Nam Floating Market, with total area of 40 acres is the largest floating market in Asia where tourists can take a small train and boat to enjoy the scenery around the market. There are many relaxing corners to have lunch and watch the entertaining performance. There are more than 200 shops and 40 row of boats, surrounded with mountain and natural water source.
Opening hours: 9 am – 8 pm Monday to Friday. 9 am – 9 pm Saturday & Sunday.
12 The Chocolate Factory Hua Hin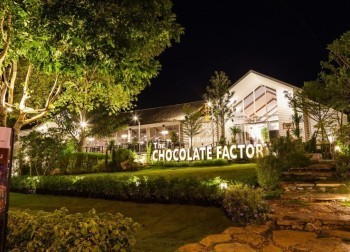 The Chocolate Factory Hua Hin, is a restaurant located in the centre of Hua Hin. This place is famous for their chocolate that is created as an interesting and unique menu. There are also desserts and delicious food dishes whether Italian or Thai food. The size of the shop is spacious and divided into sections of the air-conditioned room for chilling, and the garden zone for those who like to enjoy nature. In addition, the shop has a chocolate dessert zone that sells sweets made from various forms of chocolate. If you come to this zone, you may get some piece of chocolate. This shop is suitable for all ages whether groups of friends, family, or lovers. 
13 Monkey Mountain (Wat Khao Takiab)
Monkey Mountain, where Wat Khao Takiap (Khao Krailat) is situated on top of the hill. The temple belongs to a Buddhist denomination originally founded by King Rama IV and showcases a collection of large Buddha images dating back several hundred years. A 20 meters giant golden Buddha statue standing against a cliff is the Landmark of Khao Takiab. Visitors can catch a great bird's eye view of Hua Hin.
Opening hours: 6 am to 6 pm daily.
Wat Huay Mongkol, is the enshrined place for the world's largest statue of Luang Phor Thuad. The Buddha is mentioned in the early regional histories of southern Thailand, but his life is mainly preserved in oral traditions. Stories of the famous monk were passed on by word of mouth for centuries. Luang Phor Thuat has also been said to have saved countless lives of people be it the battlefield, car accidents, armed robbery or more with his sacred amulets.
Pranburi Forest Park, about 15 km South of Khao Takiab beach was a project initiated by Her Majesty Queen Sirikit to protect the mangrove forest. The Park with approximately 280 acres has clean white beaches. The pine forest stretches 1 km to the east of the park. You can Overlook at the sea, Lion Island, Khao Takiab and Khao Tao. Interesting point is the mangrove nature trail with a wooden bridge elevated. You can explore and study about natural resources, mangrove ecosystems closely with spaced 1,000 meters in length.
16 Khao Sam Roi Yot National Park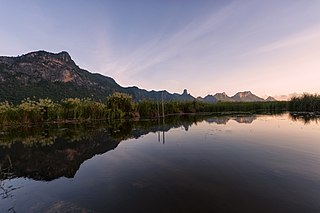 Khao Sam Roi Yot National Park, is about 55 km from Khao Takiab beach. The name of the park means a mountain with 300 peaks. With an area of 98 km², it is renowned for its limestone mountains, mangrove swamps, beaches, and several species of local and migrating birds during the cool season. Others attractions like Phraya Nakhon Cave, Tham Kaeo and Tham Sai Cave are among the popular hot spots in the National Park. Within the park also lies one of the wetlands rarely found in Thailand, Thung Sam Roi Yot Wetland, one of the most biologically diverse area.