BEST TIME TO VISIT KOH PHANGAN
Koh Phangan (Ko Pha-ngan) Climate & Weather
Because the island has a tropical savanna climate in the Gulf of Thailand, knowing when is the best time to visit Koh Phangan is essential, as the weather can ruin your trip during the rainy season. The weather is hot, humid, and windy throughout the year, but the island is less humid than Phuket. Because the average temperature on Koh Phangan varies so little throughout the year, ranging between 24°C and 34°C, discussing hot and cold seasons is unnecessary; instead, we'll focus solely on the island's wet and dry seasons.
Best Time To Visit Koh Phangan By Month
Mid-December to April (Dry Seasons) - Best Time To Visit Koh Phangan For All Activities
The rainy season on Koh Phangan usually ends in the first two weeks of December, and the dry season begins and lasts until April. The months of February and March are frequently the driest of the year. During this time, you may expect some bright and pleasant days with temperatures ranging from 24°C to 32°C.
On the other hand, the high tide on the island occurs from December to March, making this the best time to visit Koh Phangan for individuals who prefer beach activities such as sunbathing, swimming, diving, or snorkelling. As a result, this time period is known as the island's "super peak season". Reservations for lodging and air tickets should be made as early as possible, and be prepared for price increases not only for hotels and flights, but also for foods and drinks during these crowded months. 
For those on a tight budget, this peak season may be the worst time to visit Koh Phangan because there is nothing cheap to be found on the island. However, since most western tourists leave by the end of March, many Asians from the surrounding regions visit the island during or immediately after the Songkran Festival (Thailand New Year), which is usually held in the middle of April and just before the rainy season in May. As there are less visitors, most hotels will offer you the best possible rate.
May to November (Wet Seasons) - Best Time To Visit Koh Phangan On A Budget (Just Avoid Oct & Nov)
The wet season usually lasts from May to early December. Rainier days occur from May to September, with an average rainfall of about 110 mm. The wettest season on Koh Phangan begins in October (the start of the moosoon), with a significant increase in the island's rainfall that can more than double from September. November is by far the wettest month of the year, with an average rainfall of more than 500 mm. In this context, November is generally considered a low season, but it is the most budget – friendly month to visit.
May to July is another low season. Apart from the rainier days, these are also the hottest months of the year (average temperature above 32°C) and the island's low tide. Most beachgoers avoid visiting during this time because of the shallow water, which makes swimming unfavourable. However, if you prefer to relax and have a quieter vacation and are not keen in beach activities, this could be the best time to visit Koh Phangan. Accommodation, air tickets, food, and nightlife expenses will be significantly lower than during peak season, particularly for hotels, which could be up to 30% to 40% cheaper.
Even though it is the pre-monsoon season, August to September are busier and more touristy than May and July. This is due to the fact that the water level begins to rise during these months, attracting mostly Asian visitors to the island for beach activities. You can still enjoy a few hours of clear blue sky in the morning before showers and heavy rain approach later in the afternoon or evening. Nonetheless, these months are far quieter than peak season, and lodging is still considered cheaper. It is worthwhile to consider visiting Koh Phangan during this time.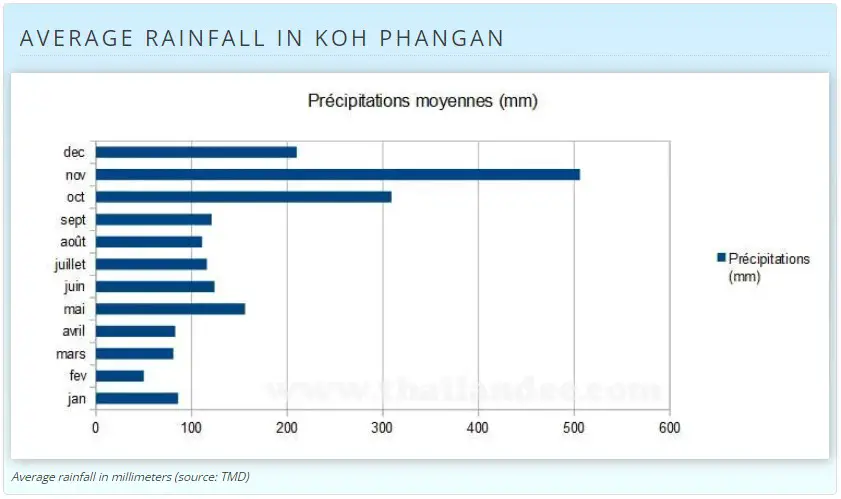 Koh Phangan, Thailand's fifth largest island, is located in the Gulf of Thailand, off the east coast of Surat Thani province. It's around 55 km off the coast of Thailand, 15 km north of Ko Samui and 35 km south of Koh Tao. The island is well known for its monthly full moon party in Haad Rin, but it also has some of Thailand's most gorgeous beaches, most of which are still relatively undeveloped, allowing tourists to choose between a wild beach party and a peaceful beach vacation.
Apart from the stunning beaches and clear blue sea, half of the island is protected rainforest, with waterfalls, mountains, coconut farms, and other attractions for visitors. As soon as you arrive on the island, you will be greeted with breathtaking scenery.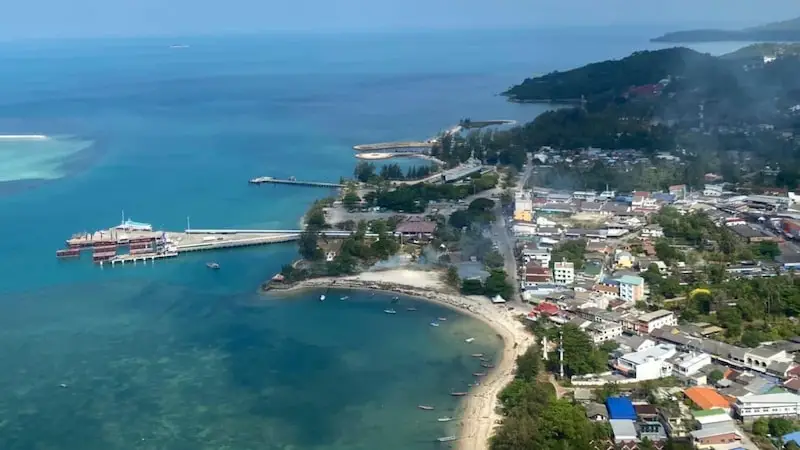 How To Get To Koh Phangan
The only method to get to Koh Phangan is by ferry because the island does not have its own airport. The majority of tourists will travel to Samui International Airport (IATA: USM) and then transfer to Bangrak Seatran Pier to catch the ferry to Koh Phangan. If your first stop is Koh Samui and stay on the west coast, there are two more piers to choose from: Nathon Pier and Lipa Noi Pier.