Best Things To Do In Pattaya
Pattaya is a popular beach resort on the Gulf of Thailand with hundreds of thousands of visitors are drawn each year to Pattaya to windsurf, water ski, swim, sunbathe, snorkel, sail, or take trips to nearby islands. Among some of the best things to do in Pattaya include bungee jumping, banana-boat rides, cycling, skydiving, go-Karting, Muay Thai (Thai boxing), and paintball.  Another big draw for tourists to Pattaya is the wide variety of restaurants offering some of the freshest seafood in Thailand. Pattaya is definitely a Thai beach resort that meets every visitor 's needs at any budget.
20 Best Things To Do In Pattaya
The Sanctuary of Truth, is Thailand's world-famous architecture  wooden building that made of teak wood with 105m height (central apex) & approximately 2,115 square meters in total interior area.  Inside this sanctuary there are wood statue and delicate wood carving that were make 100% by hand. Aside from the sanctuary, around the area has a lot of activities such as carriage touring, elephant 7 horse riding, speed boat trip around coastal line, art and tradition show, Martial art show and Dolphin show.
Mini Siam, is the wonderland of miniature replicas features outstanding architectural buildings all around the world together at one place. It includes the Temple of the Emerald Buddha, Tower Bridge, Eiffel Tower, the Statue of Liberty & many more. It is located in the North of Pattaya and is open from 9am to 10pm daily. Admission  fees is 250 baht for adult, 120 baht for children. – Best thing to do in Pattaya with kids.
Art in Paradise, a 3D illusion art museum in Pattaya where you can have a full of fun in touching and taking pictures with these illusion 3D art pieces. There are 10 exhibitions halls that range in different theme such as Underwater World Hall, Wildlife Hall, Dinosaur Hall, Waterfall Hall as well as making fun touch the world famous art paints. 
Opening hours: 9am-10.30pm (Ticket Booth open until 9.30pm) Admission: 400 baht for adults, 200 baht for children
04 Ripley's Believe It or Not
Ripley's Believe It or Not, is a world famous museum of it's oddities collections. It is located right in the middle of Central Pattaya and is within the walking distance from Beach Road. The museum houses more than 300 shocking & strange collections and this is the best place for those who travel with kids. The museum is open daily from 11.00am to 11pm.
05 Pattaya Elephant Village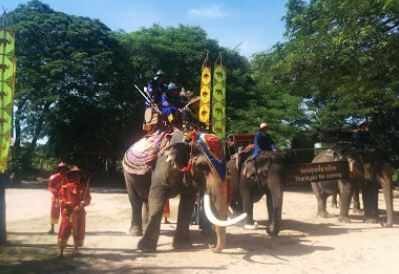 Pattaya Elephant Village, which is about 9km from Beach Road offers stage shows, which demonstrate how to catch wild elephants, elephants-at-work in the jungle, elephants playing football, a grand war and elephants' parades. There are also other activities such as ATV riding, Ox-cart riding, mini zoo & rafting over the lake in this village. This village is open daily from 8am to 5:30pm. 
06

Pattaya

 Floating Market
Pattaya Floating Market, is also known as "Four Regions Floating Market" because the owner aims to make the place to be the learning center of Thai self-sufficient living that have connected with water until present and the fascinating local wisdom of four regions of Thailand; the North, the Central, the North East and the South. You can find all kinds of products & foods from all 4 regions of Thailand here. Open daily from 9am to 8pm.
Wat Phra Khao Yai or the Big Buddha Hill, is the biggest Buddha statue in Chonburi province. The Buddha is about 18m tall and it is situated in Pratamnak Hill, South Pattaya. On top of the hill is the best view point to the beach of Pattaya & Koh Larn Island. 
The temple is open daily from 7am until 10pm and admission is free.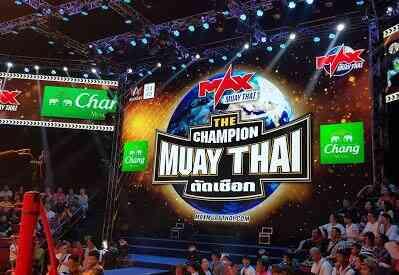 Max Muay Thai at Stadium Pattaya, watch the real fierce fighters from all around the world here. Not only the live fights (real fights guaranteed), they also offer live broadcast & video on demand for every matches, a world class standard fight show. Open daily from 6pm to 9pm.
Best thing to do in Pattaya for Thai Boxing lover.
Beach Road, is about 3 kilometers long beach right in the center of Pattaya. The north beach is quite a quiet place where tourists like to go swimming and chilling. In the middle part, this is where most of the people will hang around during the day time. It is a center of marine activities for those who come to rest such as sunbathing and water sports. The whole 3 kilometers along the beach is full of hotels, shopping malls, restaurants and souvenir shops. – Best thing to do in Pattaya for beach activies.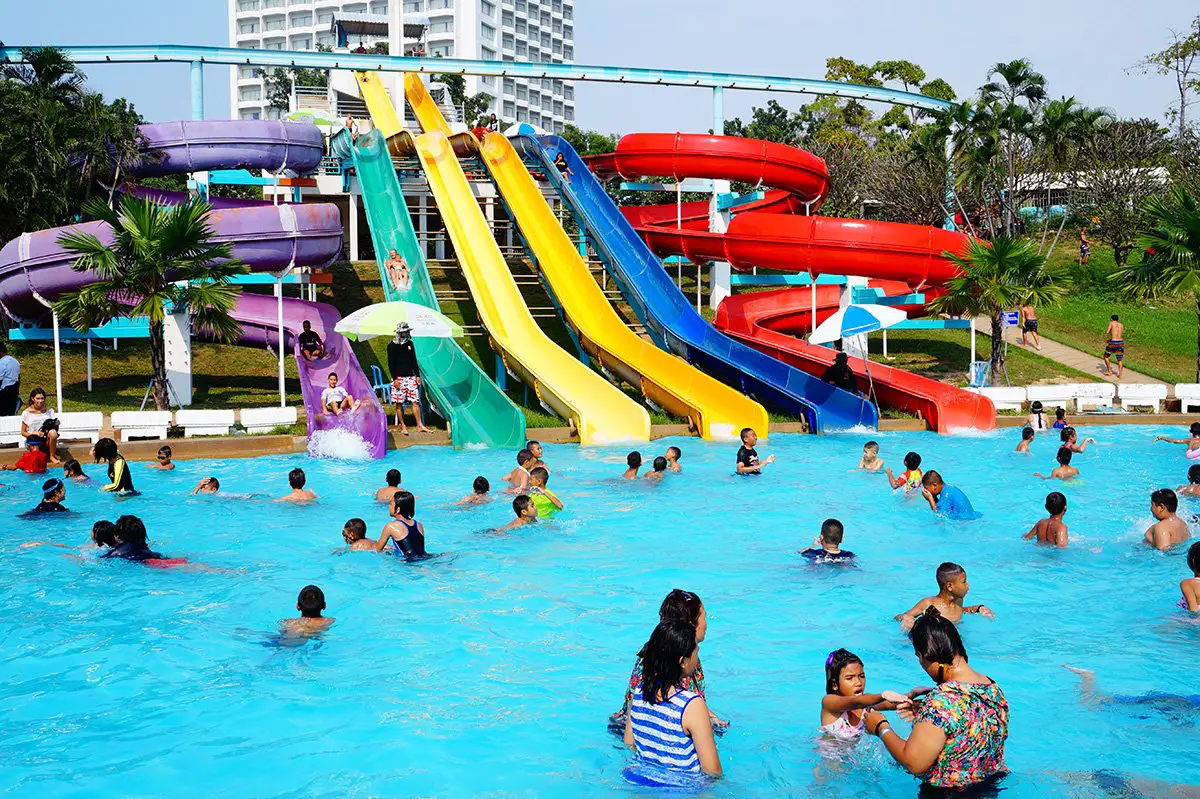 Pattaya Park at Jomtien Beach features a large water park with giant slides and a tower with a revolving restaurant, which offers a stunning panoramic view of Pattaya city. Visitors can enjoy many playthings which offer excitement and a great fun for the whole family. They also have accommodations offers at Pattaya Park Beach Resort for visitors who want to stay here too. – Best thing to do in Pattaya for family.
11 Dolphin Show & FROST Magical Ice of Siam Ticket
12 Pattaya Adventure – Best thing to do in Pattaya for adventurers
13 Tiger Park & Sheep Farm
14

Underwater World Pattaya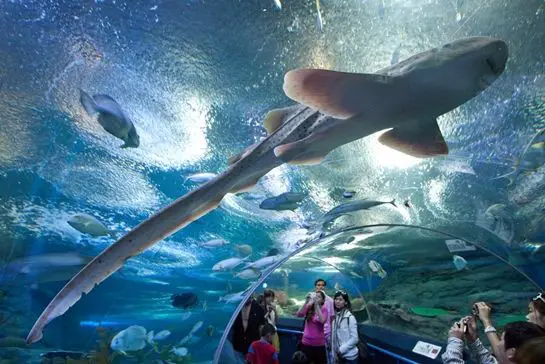 Underwater World Pattaya, with total area of about 4.75 acre, is the largest and most modern ocean Aquarium in Asia, boasting a 105 long, 6.4-centimeter-thick acrylic pedestrian tunnel through an underwater environment filled with dozens of marine species from the Gulf of Thailand. This is not just an aquarium, this is also a sea life learning center, a great choice for a family trip.
15 Million Years Stone Park & Pattaya Crocodile Farm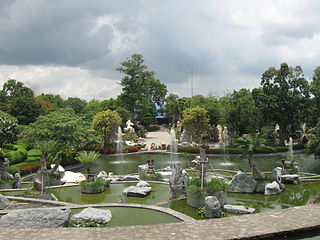 Million Years Stone Park and Pattaya Crocodile Farm, with over 70 acres piece of land located just merely about 9km away from Beach Road. You can see unusual natural gigantic rocks of grotesque shapes and shaped like animals, weighing up to 90 tons each as well as Thai-style trained trees of over  200 years old. The Crocodile Farm here has also the largest amount of saltwater crocodiles in Thailand.
16

Nong Nooch Tropical Garden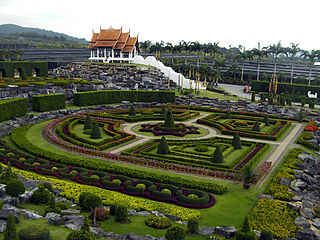 Nong Nooch Tropical Garden, an award-winning garden with about 600 acres in total area is one of the most popular tourist attraction in Pattaya. The garden not only offers tropical flowers and plants, tourists also could  experience religious ceremonies, martial arts demonstrations, massages, and elephant shows. This garden is also equipped with accommodation, swimming pool, restaurants, and banquet and seminar halls for the tourist's convenience.
Koh Larn, also known as "Ko Lan", "Ko Laan" or "Coral Island". Lying about 7.5 kilometers offshore from Pattaya, this Island offers several white sandy beaches such as notably Hat Ta Waen, Hat Laem Thian and Hat Thong Long while there a bunch of coral reefs on the otherside of the island. Visitors can choose either snorkeling or viewing the coral from glass bottom Boats. You can choose a ferry or speedboat depart from Bali Hai Pier to Koh Larn everyday. – Best thing to do in Pattaya for snorkelers.