BEST PLACES TO STAY IN KOH PHANGAN
Like its neighbour Koh Samui, the majority of the best places to stay in Koh Phangan are located along the gorgeous beaches. The island is known not only for its spectacular white sandy beaches and crystal clear blue sea, but also for the world-famous Full Moon Party, which has been held every month since 1985. This draws a large number of visitors from all over the world to the island.
In this setting, tourism on Koh Phangan, notably in the hotel industry, has been booming over the past two decades. The island offers a diverse range of lodging alternatives, including homestays, motels, boutique and mid-range hotels, as well as beachfront 5-star luxury resorts, to accommodate tourists of all budgets.
During the off-season, you can generally locate lodgings near the pier, and many hotels provide complimentary transport service to and from the pier! However, unless you want to sleep on the beach or stay in one of the more expensive resorts, it is advisable to book ahead of time during peak season. So, in the following, let's find out where are the best places/areas to stay in Koh Phangan.
10 Best Places To Stay in Koh Phangan
Haad Rin (Hat Rin) on the island's southern tip is one of the most picturesque and touristic beaches. The beach features some of the smoothest white sand and is split into two sections called Hat Rin Nai and Hat Rin Nok by the earth's crust. A few ferries run daily between Koh Samui and Haad Rin Queen Pier.
Despite having turquoise seawater, Haad Rin Nai on the left is quieter due to the many sharp rocks that could be dangerous if walked on barefoot. While Haad Rin Nok on the right is the busiest and most popular party hotspot, it is best known for its monthly Full Moon Parties. Thousands of partygoers from all over the world flock to the long stretch of bars and clubs along the beach to enjoy to the pumping techno music played from evening until dawn. 
Aside from the bustling nightlife, it also offers a variety of water sports and activities during daytime, such as sunbathing, jetskiing, banana boat rides, sailing, diving, and beach volleyball. In terms of facilities, Haad Rin is also a convenient and fantastic shopping destination. A variety of shops sell low-cost Thai traditional crafts, jewellery, clothing, and souvenirs.
This area has the most lodging options, with many resorts, hotels, and guesthouses surrounding it. If you plan to visit during the party period, the cost of accommodation is considered high, and it is recommended that you stay slightly outside of Haad Rin. However, Haad Rin remains one of the most popular areas for most backpackers to stay because it offers a plethora of budget hotels that cost less than USD 40.00 per night before and after the Full Moon Party period.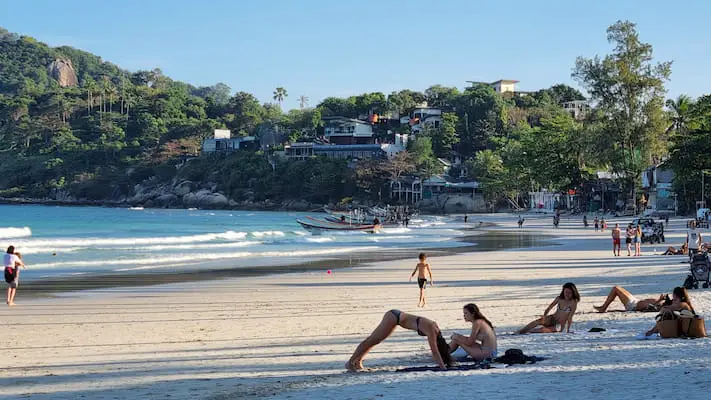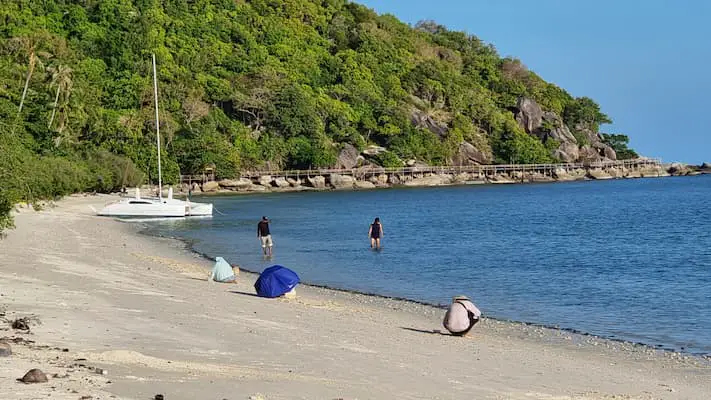 Where To Stay in Haad Rin, Koh Phangan
Recommended Hotels/Resorts in Haad Rin
02 Baan Kai & Baan Tai – Best Places To Stay in Koh Phangan for Nightlife
Located strategically between Haad Rin and Thong Sala (Koh Phangan's main pier), Baan Kai and Baan Tai are among the most popular areas to stay in Koh Phangan due to their proximity to the crowded Haad Rin, particularly during the Full Moon Party. Rin Nok Beach is only 10 kilometres away, or about 15 minutes by taxi.
Baan Kai is a long stretch of white sand beach lined with coconut trees that offers breathtaking views of Koh Samui. It is quieter and more relaxed than neighbouring Baan Tai, and it has a variety of budget hotels and affordable bungalow resorts, making it an enjoyable, relaxing, and convenient place to stay. In fact, Baan Kai is one of the best options for most partygoers and backpackers.
Baan Tai has one of the island's most extensive stretches of coastline. The shoreline runs parallel to Koh Samui, offering fantastic views of the island in the distance as well as a spectacular sunset. This location is well-known for its bars and nightlife, which provide a nice mix of a party atmosphere. It has a plethora of restaurants & beach bars that stay open until late and provide a fantastic vibe to party after watching the sunset.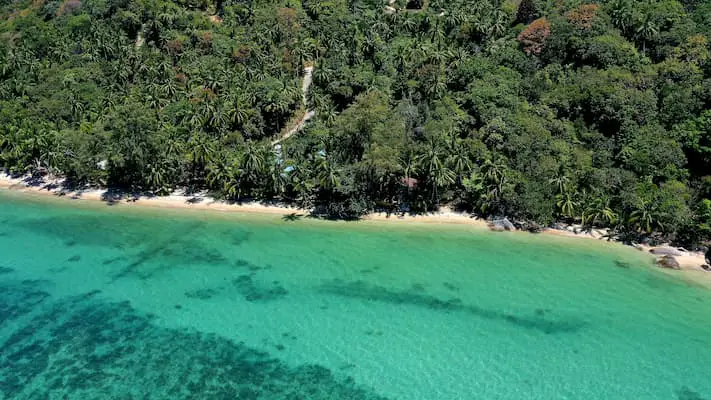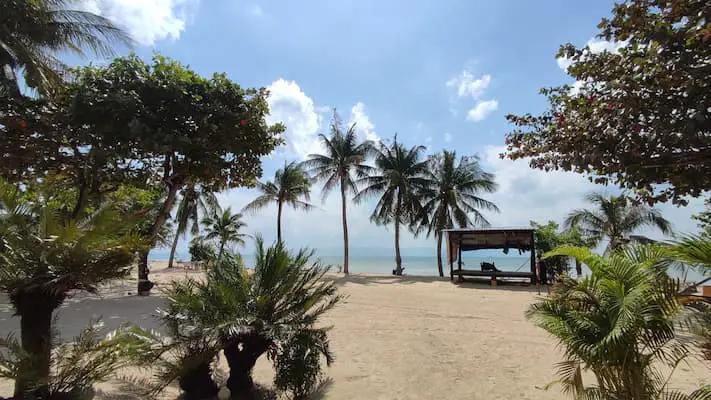 Where To Stay in Baan Kai & Baan Tai, Koh Phangan
Recommended Hotels/Resorts in Baan Kai & Baan Tai
03 Thong Sala – Best Place to stay in Koh Phangan for Foodies
Thong Sala is the capital and administrative center of Koh Phangan. It is also the main ferry terminal, where the majority of tourists arrive and depart. This port area has three main piers, one of which can handle medium to large sized container and passenger ferry. The other 2 accommodate smaller passenger and dive boats serving the islands of Koh Phangan, Koh Samui, and Koh Tao, as well as the mainland piers of Surat Thani and Chumphon.
As this is the main town, visitors can easily find all types of services such as bike/car rentals, local travel agencies, money changers, banks, post offices, grocery stores, restaurants and many others. Thong Sala, in particular, features the widest range of restaurants, covering everything from traditional Thai to Western cuisine. In addition, the bustling night market here also offers a diverse selection of local delicacies and Thai specialty street food. 
Unfortunately, there aren't many decent hotels in town when it comes to lodging. The majority of the accommodation options are only available along the coast, from the pier down to Thong Sala Beach, which is right next to Baan Tai Beach.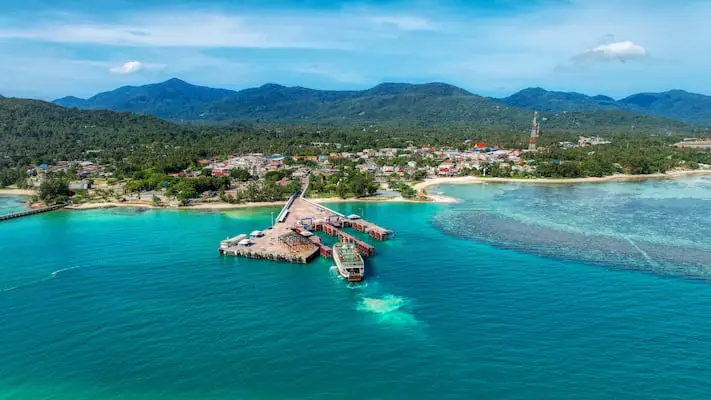 Where To Stay in Thong Sala, Koh Phangan
Recommended Hotels/Resorts in Thong Sala
04 Sri Thanu – Best Place To Stay in Koh Phangan for Yoga Fans
Sri Thanu is a small, charming fishing village located about 10 kilometres north of Thong Sala Pier. It has a small white sandy beach (approximately 500 metres long) called Sri Thanu Beach, which is only 30 metres from the main road. This traditional Thai village is one of the less visited areas on the island, but it has a lot to offer visitors.
In fact, Sri Thanu is well-known for its yoga and spiritual schools, which draw hundreds of students each year, and there is a sense of 'calm' in the air around this area. Aside from that, this modest village also has some of the best Thai seafood restaurants and steakhouses on the island. 
Sri Thanu is an excellent choice for couples, honeymooners, and families seeking a more tranquil and relaxing vacation. Depending on your budget, there are a variety of resorts to choose from, ranging from basic to luxurious, as well as many houses to rent if you plan to stay longer.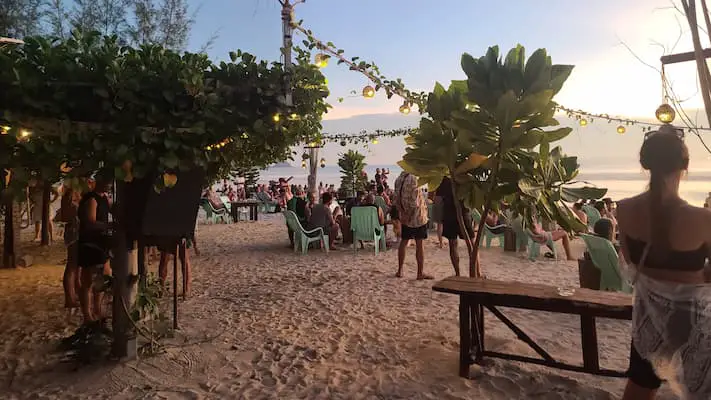 Where To Stay in Sri Thanu, Koh Phangan
Recommended Hotels/Resorts in Sri Thanu
05 Haad Yao – Best Place To Stay in Koh Phangan for Snorkeling & Diving
Haad Yao is a long and wide white sandy beach with plenty of palm trees for shade that stretches for more than a kilometre from Haad Son. It is one of Koh Phangan's most beautiful and pristine beaches. The taxi ride from Thong Sala pier takes only 15 minutes (approximately 12 km). This area has more amenities such as 7-11, ATMs, shops, beach bars, and restaurants.
The beach has a clear blue sea and a magnificent coral reef just off the coast, making it perfect for snorkelling or diving. You could easily spend an entire day exploring the reef and marvelling at the astounding sea creatures that live on this stretch of the island.
There are numerous lodging options available to accommodate any budget. Prices range from $15 per night for beachside bungalows to $100 per night for some of the more upscale resorts.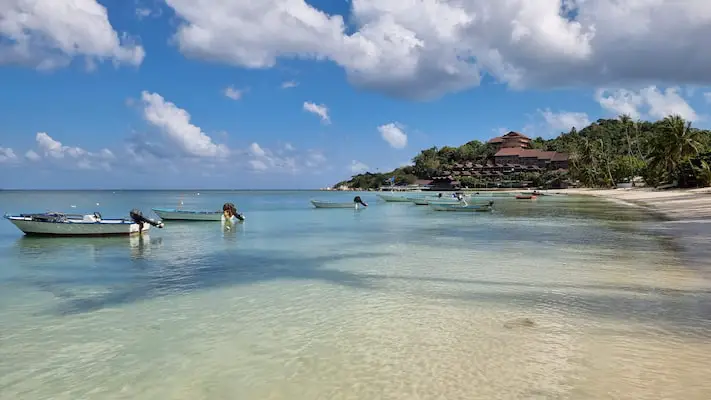 Where To Stay in Haad Yao, Koh Phangan
Recommended Hotels/Resorts in Haad Yao
06 Haad Salad – Best Place To Stay in Koh Phangan for Families
In the local tongue, Haad Salad means "pirate beach". This is because the protected cove, with its coral reefs and shallow water, was inaccessible to the Thai navy in the past, making it an ideal hideaway for smugglers. The gorgeous white sand beach and crystal clear water of Haad Salad is now frequented by visitors seeking a paradise beach vacation rather than pirates.
This 600-meter-long fine white sand beach is well connected to the island's infrastructure yet retains an isolated beauty, with much of the palm tree fringe remaining. It is without a doubt one of Koh Phangan's most beautiful and pristine beaches.
In addition to swimming and paddling, it also has some of the best diving and snorkelling on Koh Phangan. In the area, there are a few diving operators to choose from. Kids will enjoy looking for shells as well, especially around low tide when there are many lovely shells to be found.
Almost all of the resorts have attached restaurants where you can sample exquisite Thai cuisine as well as the traditional Western fare like burgers, fries, and sandwiches. BBQ and fresh seafood are also available at a number of places.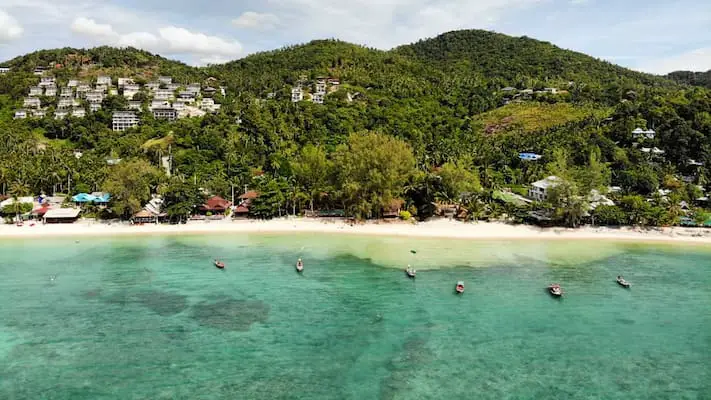 Where To Stay in Haad Salad, Koh Phangan
Recommended Hotels/Resorts in Haad Salad
07 Mae Haad – Best Place To Stay in Koh Phangan for Tranquility
Mae Haad is another stunning and secluded white sand beach on the island. The beach is around 800 metres long, with a wide beachfront, clear water, fine white sand, and rounded stones, and is one of Koh Phangan's most popular tourist attractions.
The scenery is breathtaking, with coconut trees and natural forests abounding. A sandbar in front of the beach leads to Koh Ma, a nearby coral reef, and you can walk across it during low tide. This sand ridge is known as "Talay Waek of Koh Phangan" by some. The sunset above Koh Ma is spectacular in the evening. This area is also one of the best off-the-beach snorkelling and diving spots due to the abundance of beautiful coral reefs, particularly at Koh Ma (claiming the most beautiful coral reef of Koh Phangan).
Although Mae Haad is quiet and peaceful, there are still plenty of restaurants and bars serving Thai and Western cuisine. Accommodation options here range from mid-sized four-star luxury resorts to small beachfront bungalows, many of which are reasonably priced.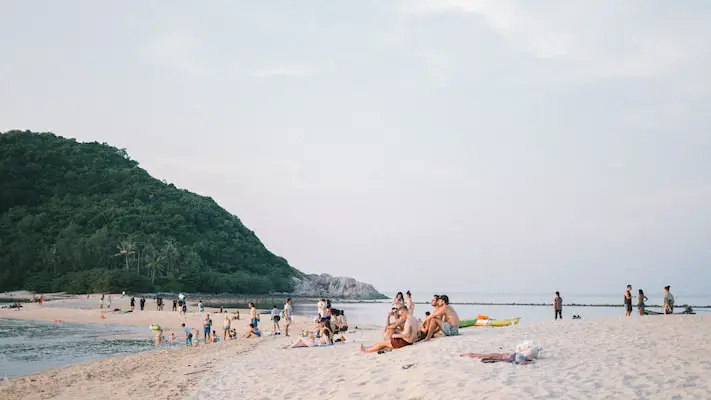 Where To Stay in Mae Haad, Koh Phangan
Recommended Hotels/Resorts in Mae Haad
08 Chalok Lam – Best Place To Stay in Koh Phangan for Beach Lovers
Chalok Lam Beach is located in a spectacular bay with a nearly 2.5-kilometer-long shoreline (among the longest beaches on Koh Phangan). The entire bay is framed by natural mountains, creating some of the most beautiful scenery on the island. 
As a result of its popularity in recent years, this fishing village has transformed and made way for tourism industries. On the village beachfront, there are now numerous Thai-style restaurants and some new funkier beach bars and cafes, as well as stalls across the bay that serve all kinds of food and drink.
Additionally, the beach also offers a variety of water activities such as wakeboarding, water skiing, diving, and the rental of longtail boats for island hopping or fishing. If you enjoy the beach and prefer a more relaxed and laid-back vacation, this is definitely one of the best places to stay.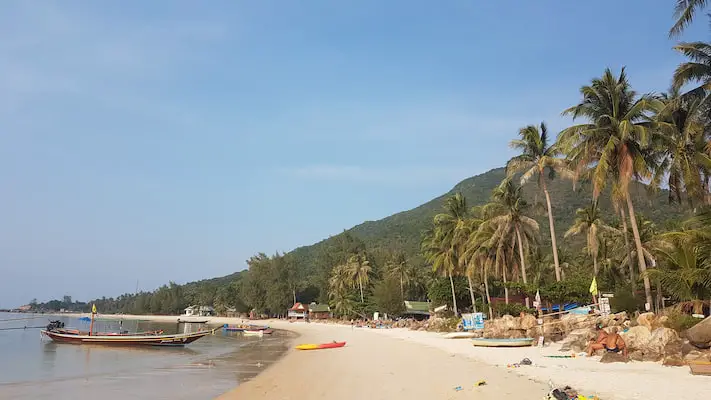 Where To Stay in Chalok Lam, Koh Phangan
Recommended Hotels/Resorts in Chalok Lam
09 Bottle Beach – Best Place To Stay in Koh Phangan for Jungle Trekkers
Bottle Beach (also known as Haad Khuad by locals) is one of the island's most remote beaches, located on the north coast and reachable by longtail boat from Chalok Lam or a strenuous 2-3 hour trek from Haad Khom beach (this hike named the beach due to the use of plastic bottles to mark the trail). There's also the option of using the road (one of the island's worst roads), but the taxi journey is so expensive that it's always best to go to Chalok Lam and take a longtail boat from there.
Because of the area's remoteness, there are no ATMs, 7-Elevens, shops, nightlife or local restaurants nearby, so you'll have to buy everything at inflated costs at your hotels/resorts or before entering. If you are a night owl or a partygoer, this may  be theworst place for you to stay. For most trekkers, though, Bottle Beach remains a true paradise. This location boasts a natural forest and scenic mountains that offer some of the best hiking trails on the island, in addition to its 500 metres of pristine white sand beach and clean water.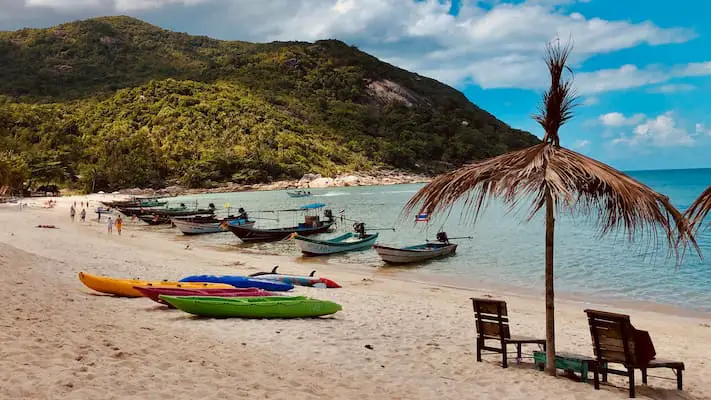 Where To Stay in Bottle Beach, Koh Phangan
Recommended Hotels/Resorts in Bottle Beach
10 Thong Nai Pan – Best Place To Stay in Koh Phangan for Couples, Honeymooners and Families with Kids
Thong Nai Pan is another picturesque area on the island's northeastern coast that contains the adjoining beaches of Thong Nai Pan Noi (North) and Thong Nai Pan Yai (South), which are separated by a small headland. Both stunning beaches were flanked by mountains covered in lush tropical rainforest and had softly curving white sand bays and turquoise waters.
Thong Nai Pan Noi (Noi means small) is regarded as one of the most beautiful beaches in the world. It is more popular than its neighbour due to its reputation for luxury resorts and a holidaymaker vibe, particularly among families with children, solos, couples, honeymooners, and local expats. A small village with some cool bars and restaurants can be found about 900 metres back from the beach on a thin strip of flat land between two hills.
Thong Nai Pan Yai (Yai means big) is the longer of the two beaches, with more space between resorts and no village around, making it quieter than its counterpart. There are numerous hiking trails and waterfalls to visit, as well as a good set of rocks for experienced climbers. Those looking for a break from the beach will enjoy exploring the waterfalls of this enchanting spot of Koh Phangan. This side of the island is still fairly wild, and the surrounding jungle is home to a plethora of exotic tropical creatures.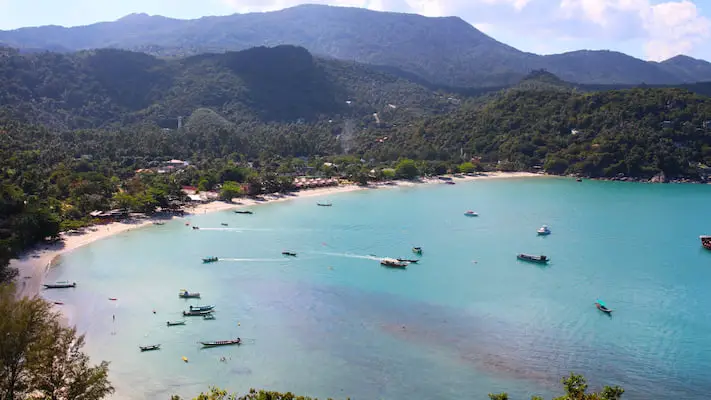 Where To Stay in Thong Nai Pan, Koh Phangan
Recommended Luxury Hotels in Thong Nai Pan
Recommended Mid-Range Hotels in Thong Nai Pan
Recommended Budget Hotels in Thong Nai Pan
All Hotels in Koh Phangan
Recommended Hotels in Koh Phangan
Best Places To Stay In Malaysia
Best Places To Stay In Thailand
Best Places To Stay In Indonesia