BEST TIME TO VISIT MALAYSIA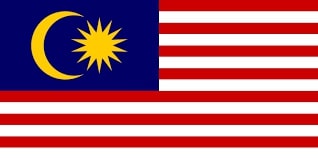 Since the South China Sea divides Malaysia into two regions (West and East), the best time to visit Malaysia is particularly dependent on which region you are visiting. West Malaysia, commonly known as Peninsula Malaysia, is bordered on the north by Thailand and on the south by Singapore. East Malaysia, on the other hand, shares the northern half of the island of Borneo with Indonesia and Brunei.
Both the West and East climates are classified as tropical rain forest since they are located just above the equator and are hot and humid all year. The temperature across the country is virtually consistent, ranging from 22°C to 35°C on average.
The rainfall and monsoon season, on the other hand, may vary significantly between Peninsular and East Malaysia, or even between the west and east coasts of Peninsular Malaysia. To avoid bad weather and a strong monsoon, be very specific about when and where you wish to visit upon planning a trip to Malaysia. In this context, we will split when is the ideal time to visit the West Malaysia (Peninsular) and when is the best time to visit East Malaysia. So, keep reading to find out more.
Best Time To Visit West Malaysia (Peninsular)
The Southwest Monsoon, which occurs from late May to September, and the Northeast Monsoon, which occurs from late October to March, have an impact on peninsular climates.
East Coast
The Northeast Monsoon brings serious downpour and floods to most cities along the peninsula's east coast, particularly in November and December. During this time, it is especially important to avoid visiting the east coast and all islands, such as Tioman, Perhentian, and Redang. From November through March, however, tourism amenities on these islands are usually closed. In conclusion, the best time to visit east coast Peninsular Malaysia is during the drier month from April to October.
West Coast
On the west coast, the Southwest Monsoon (May to September) has essentially no serious effect on the tourism industry. Almost all year long, it is hot, sunny, and humid, with rains.
There are two rainy seasons along the west coast: March to May receives slightly more rainfall, and October to early November receives the maximum. Tropical downpours, however, are usually short but intense, and normally occur in the late afternoon. Tourists will have enough time to enjoy all outdoor activities till noon during these rainy seasons.
As a result, late December to February and June to September are the best time to visit west coast of Peninsular Malaysia. Nevertheless, keep in mind that this is also Malaysia's peak season, so expect increased hotel and food prices.
Best Time To Visit East Malaysia (Sarawak & Sabah)
Sarawak
East Malaysia has more rain than Peninsular Malaysia, particularly in western Sarawak, where annual precipitation reaches 4,000 mm (157 in). The northeast monsoon, which occurs from October to March, brings rain to Sarawak's coastal areas. The wettest month is usually January, when it rains virtually every day. In January alone, precipitation could reach up to 700 mm (27.5 in). Aside from the rainy months, the dry season, which runs from April to September, is the best time to visit Sarawak.
Sabah
The north-eastern region of Sabah is directly exposed to the northeast monsoon, which occurs from October to March. Rainfall is abundant, particularly in December and January.
The southeast part of Sabah has an equitable distribution of rainfall, about 2,000 mm (79 in) a year. The sun shines for a substantial hour of the day throughout the year. Without any doubt, the best time to visit Sabah is from April to September, with July being the peak month, especially on the renowned Sipadan Island, a world-class diving destination.
Malaysia is a Commonwealth country that combines modernism with development, with a population of about 32.5 million people. Kuala Lumpur, the country's capital and largest city, is the most economically developed.
The country is known for its multicultural, multiracial society, multilingual, and multi-religious. Despite the fact that Malays and Bumiputra (Indigenous people) account for 68 percent of the population, there are still roughly 22 percent Chinese, 7% Indian, and 3% others, such as the Portuguese clan in Malacca.
Although Malay (Bahasa Malaysia) is the official language of Malaysia, English is widely spoken in the main cities and near popular tourist attractions. Other dialects such as Mandarin, Cantonese, Hokkien, and Tamil are common due to the country's multi-ethnic populace.
Malaysia is known for its gorgeous beaches and islands, such as Sipadan off the coast of Sabah, Perhentian Island and Redang Island off the coast of Terengganu, and Tioman Island in Pahang, all of which offer good diving opportunities. In addition to its beaches, Malaysia has a diverse selection of magnificent national parks. 
If you're more interested in feeling the pulse of a city, Kuala Lumpur's ultra-modern patchwork skyline, which includes the famed Petronas Twin Towers, is worth seeing. Whereas, individuals who prefer a little slower-paced town may enjoy visiting magnificent colonial-era architecture in places such as Ipoh, Penang Island, and Malacca, which date back over a century.
You can even locate the coldest areas in Malaysia in the so-called "Highlands" to escape the tropical heat. Because the highlands are higher than the rest of the country, temperatures are typically cooler (average 18°C to 22°C). Cameron Highlands (over 1,500 m above sea level) and Genting Highlands (over1,800 m above sea level) are two popular hideaways.
Best Places To Visit in Malaysia